Dear Reader,
The cover of our Spring 2018 catalog reflects big news for Berrett-Koehler Publishers. As of January 2018, all Berrett-Koehler titles will be sold and distributed around the world through industry-leader Penguin Random House Publisher Services (PRHPS)— which is the distribution services arm of Penguin Random House and which represents such distinguished independent presses as National Geographic, Beacon Press, and Rizzoli. On the catalog cover (pictured below) is a photo of PRHPS leaders, sales reps, and staff along with publishing company attendees at the annual Client Summit that PRHPS puts on for its clients.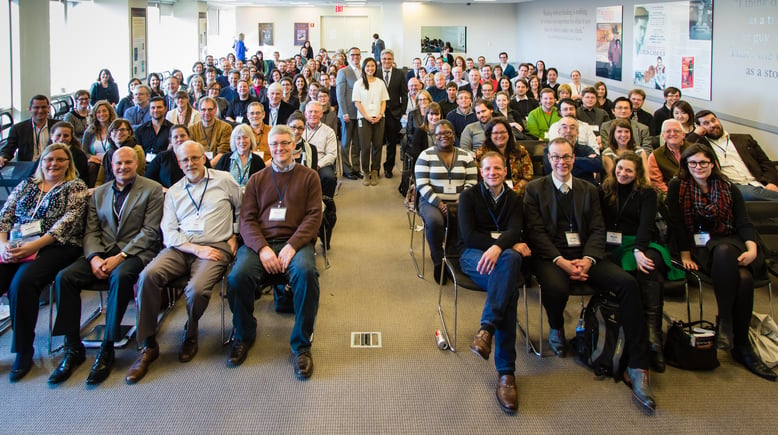 Previously, Berrett-Koehler titles have been distributed in the United States through Ingram Publisher Services and in other countries through Raincoast Books (Canada), McGraw-Hill Book Co. Europe, McGraw-Hill Education (Asia), HarperCollins Publishers India, and Eurospan Australia. These distributors have been wonderful partners with Berrett-Koehler, and we are grateful for their many years of helping us expand our sales and distribution.
It is an indication of Berrett-Koehler's growing brand and stature that we are able to move our trade distribution now to the distribution arm of the largest trade-book publisher in the world, which will offer many advantages to Berrett-Koehler and to our authors. Penguin Random House enjoys the largest US sales forces and also the largest international sales forces calling on chain bookstores, independent bookstores, special sales accounts, and other bookselling accounts all over the world. Moreover, Penguin Random House has the most advanced supply chain in the world for broad, timely, and efficient distribution of books across all channels.
We expect to generate both increased sales of BK titles and operational efficiencies by consolidating BK's worldwide trade sales and distribution from our current multiple distributors to PRHPS. And this benefit will not be just for forthcoming BK titles—it will also be for previously published BK titles. One of the great strengths of PRHPS is tapping into the world-class Penguin Random House systems for working with bookselling accounts to close gaps in distribution and improve bookstore stocking of books (particularly when books are selling well in some accounts but have inadequate distribution in other accounts).
It should be noted that this distribution shift applies only to printed copies of BK publications. We will continue to manage distribution of BK e-books through Ingram CoreSource, which is the industry leader for digital distribution. And we will continue to maintain BK's extensive network of digital distribution partners, which is one of the largest and most comprehensive in the world (and one of the reasons why BK's digital revenues have continued to grow while digital revenues have fallen in the publishing industry as a whole).
We will be happy to answer any questions that you might have about this important move forward for Berrett-Koehler Publishers.
All the best,
Steve Piersanti
President and Publisher