FREE business masterclass
From Inactive Bystander to Ally:
Identifying, Acknowledging, and Speaking Up
with Tiffany Jana
In this webinar, you'll hear from leading Diversity, Equity, and Inclusion (DEI) expert and author Tiffany Jana on why microaggressions need a rebrand. As they see it, microaggressions are actually subtle acts of exclusion. Whether you've been on the receiving end of a microaggression or want to be a better ally to create an inclusive workplace, Tiffany Jana brings together the research, theory, tool kit, and game plan for you to build diverse and inclusive organizations that will thrive in the future.
---
Subtle Acts of Exclusion: How to Understand, Identify, and Stop Microaggressions
by Tiffany Jana and Michael Baran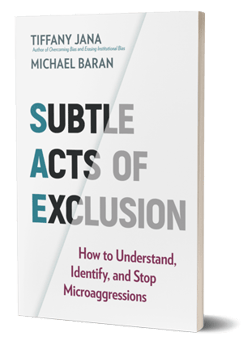 This practical, accessible, nonjudgmental book is the first to help individuals and organizations recognize and prevent microaggressions so that all employees can feel a sense of belonging in their workplace.

Buy now from your favorite retailer: