Women's Leadership Online Summit
Eight Days to Grow Your Influence, Transform the Workplace, and Rewrite the Rules of Power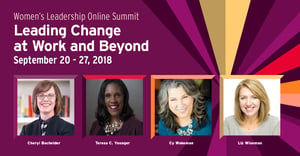 In 2018, we brought together a powerful and diverse group of leading CEOs, authors, and social justice advocates to educate, equip, and inspire women to expand their leadership capacity. To cohost, we tapped Berrett-Koehler's very own vice president of international sales and business development, Johanna Vondeling, and former executive director of Race Forward and publisher of Colorlines.com, Rinku Sen.
Speakers discussed a range of topics including purpose at work, coaching and mentoring, silencing your inner critic, building the confidence to take on big risks, andproving the triple bottom-line impact of having more women leaders.
More than 25 experts spoke at the event, including bestselling authors like Liz Wiseman (Multipliers: How the Best Leaders Make Everyone Smarter), nonprofit leaders like Ms. Foundation for Women CEO Teresa Younger, business leaders like Linkage executive vice president Susan MacKenty Brady, and visionaries like Black Lives Matter cofounder Patrisse Cullors.

Servant Leadership Online Training Summit
Ten Days to Better Relationships & Results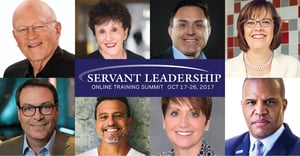 In the fall of 2017 we launched our first online training summit: the Servant Leadership Online Training Summit.
Taking its inspiration from Ken Blanchard's bestselling book Servant Leadership in Action, released earlier in 2017, it was the largest global convening of the BK community in our twenty-five-year history, with 40 subject-matter experts and 20,000 participants from around the world gathering virtually for a ten-day broadcast.
More than 25 experts spoke including Ken Blanchard, Tony Robbins, Liz Wiseman, Michael Bush (CEO of A Great Place To Work For All), Jon Gordon (Bestselling author of The Energy Bus), Beverly Kaye (Bestselling author of Help Them Grow or Watch Them Go), James Ferrell of The Arbinger Institute (Bestselling author of Leadership and SElf Deception), Jim Kouzes (Bestselling Coauthor of The Leadership Challenge), and John Hope Bryant (Founder, Chairman, and CEO of Operation HOPE)