Why Upgrade?
The Women's Leadership Online Summit: Leading Change at Work and Beyond is a free online event running from September 20–27. During this 8-day broadcast, you can tune in to watch our speaker's sessions for free from any computer or mobile device. All you have to do is register.
If you are like many of our Summit participants and you'd like to learn on your own time, we have you covered. The Leading Change Training Kit—available for a limited time at a special discounted rate of just $297—will give you access to all the summit content to own forever.
The Leading Change Training Kit includes:
25+ Hours of Women's Leadership Video Trainings
30+ Practices and Proven Techniques to amplify your voice, build your capacity for risk-taking, and overcome barriers to your success
Complete Audio Mp3 Package
PDF Transcripts for every video to read and share
Membership Portal with unique log-in to access your content
Instant Access to 30+ special bonus gifts prepared by our speakers
100% Money back guarantee
Act quickly! After the summit is over, the price will go up to $497.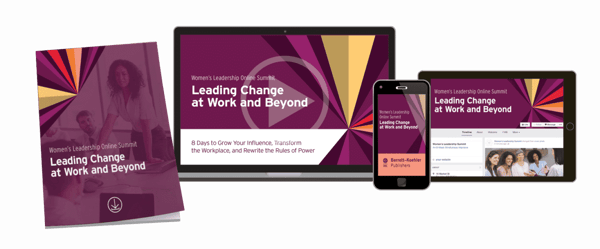 ---
Convince your boss to invest in you
Want your organization's buy-in? Convince your boss to invest in your leadership potential by purchasing the Leading Change Training Kit. You can copy and paste the text below to share with your boss.

Dear [name],
I recently learned about an exciting opportunity to develop my leadership skills. It's the Women's Leadership Online Summit. I'd like to request your permission to purchase access to the recordings of this programming--The Leading Change Training Kit--which I'm convinced will be transformational for my professional development.
Here are just some of the benefits I will gain from this training:
Get practical tips to amplify my voice, build my capacity for risk-taking, and overcome barriers to my personal success
Guidance on how I can equip my team and this entire organization with the best strategies to support women leaders at every level
Learn how to recharge, so I don't burn out
Get coached on how I can find and be an exceptional mentor
Learn how to align my leadership practices with a sustaining sense of purpose
Connect with a diverse community of women to access and offer support to lift up all of us
An individual training kit costs just $297. It includes recordings and transcripts of all the summit sessions as well as valuable bonus gifts, like excerpts from bestselling books, practical self-assessments, and other tools. But I'd also recommend you consider purchasing access for the entire organization; please let me know if that's a possibility. I'm confident this programming will educate, equip, and inspire my colleagues and me to expand our leadership capacity in ALL aspects of our lives.
I encourage you to take just 5 minutes to check out the program yourself to view all the long-term benefits this training kit could bring to me and my colleagues--and to this organization overall.
The deadline for this request is October 2. After that, the price of the training kit goes up to $497.
I know you believe in my leadership potential, and I thank you for all your help and support so far. I hope you'll support me again here by approving the purchase of this training program.
Thank you for considering this request.