We're kicking off summer with a hot new list of Berrett-Koehler bestsellers! Five new releases topped our list in June, including Kevin Eikenberry and Wayne Turmel's The Long Distance Leader, The Shift by Kimberly White, a paperback edition of Deepak Malhotra's bestseller Negotiating the Impossible, and Your Happiness Was Hacked from Vivek Wadwha and Alex Salkevar. Last but not least, Parker Palmer's On the Brink of Everything hit #1 in multiple Amazon categories and came in at #11 Publishers Weekly hardcover nonfiction list—not to mention #1 on our own list of bestsellers! Read on to find out more.
1. On the Brink of Everything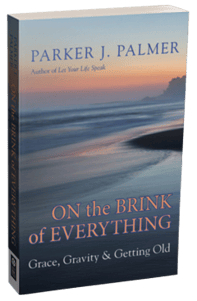 Beloved bestselling author Parker Palmer released his latest book on reframing aging as "a passage of discovery and engagement." Publishers Weekly describes the book as "Warm, generous, and funny," and says it "invites readers to the deep end of life where authentic soul work and human transformation become pressing concerns." Parker's message resonates with many of his fans and audiences around the country. On the Brink of Everything hit #11 on the Publishers Weekly Hardcover Nonfiction Bestseller list and #42 on the American Bookseller's Association Hardcover Nonfiction Bestseller list. And it spent its first week on Amazon in the #1 spot multiple categories! Unsurprisingly, it also tops Berrett-Koehler's list of bestsellers in June.
On the Brink of Everything | Amazon | Barnes and Noble | Indiebound | BK Bookstore | Audible
2. Servant Leadership in Action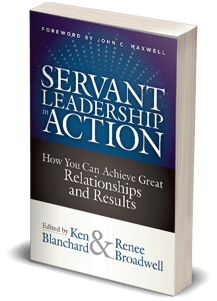 Making its fourth consecutive appearance on our bestseller list, this collection of diverse experiences on servant leadership from the top experts continues to make a profound impact on readers. Hailed by INC Magazine as "one of the most anticipated leadership books ever published," Blanchard's edited collection of essays on servant leadership teaches readers how to cultivate a practice of servant leadership to build better relationships, achieve better results, and ultimately contribute to a better world.
Servant Leadership in Action | Amazon | Barnes and Noble | Indiebound | BK Bookstore | Audible

3. The Arbinger Suite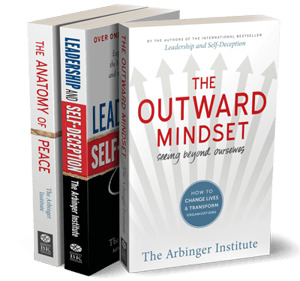 The evergreen teachings of The Arbinger Institute are a staple of their partnership with Berrett-Koehler to create a world that works for all. All three seminal Arbinger titles make this month's bestseller list, ramping up for the exciting publication of the new edition of Leadership and Self-Deception this fall. Amazon reviewers describe this book as "powerful," "life-changing," and an "amazing journey of reflection, introspection and self discovery." Focused in on conflict-resolution, The Anatomy of Peace explores how we often misunderstand the causes of our conflicts and shows the paths to achieving true reconciliation. The Outward Mindset shows how learning to see beyond ourselves can improve performance, spark collaboration, and accelerate innovation.
All three books are available on Audible!
Leadership and Self-Deception | Amazon | Barnes and Noble | Indiebound | BK Bookstore
The Anatomy of Peace | Amazon | Barnes and Noble | Indiebound | BK Bookstore
The Outward Mindset | Amazon | Barnes and Noble | Indiebound | BK Bookstore

4. The Long-Distance Leader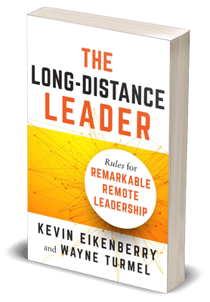 The Long-Distance Leader might just be the most helpful new book for managers in the digital age, which is why we're incredibly excited for its debut on this month's bestseller list. Pioneers in remote leadership and management Kevin Eikenberry and Wayne Turmel provide the foundational principles to effectively lead remote teams, an unavoidable reality of our increasingly digital world. As co-founders of the Remote Leadership Institute, Eikenberry and Turmel are exceedingly well-versed in how to adopt the necessary tools that enhance—and don't distract—productivity.
The Long-Distance Leader | Amazon | Barnes and Noble | Indiebound | BK Bookstore | Audible
5. Negotiating the Impossible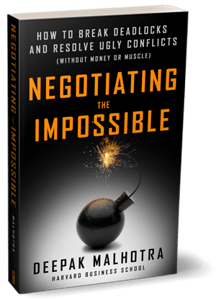 The groundbreaking book from Harvard professor and negotiation genius Deepak Malhotra is now available in paperback! Malhotra identifies three broad approaches for breaking deadlocks and resolving conflicts, and draws out scores of actionable lessons using behind-the-scenes stories of fascinating real-life negotiations, including the drafting of the US Constitution, the Cuban Missile Crisis, and bitter disputes in the NFL and NHL. But he also shows how these same principles and tactics can be applied in everyday life, whether you are making corporate deals, negotiating job offers, resolving business disputes, tackling obstacles in personal relationships, or even negotiating with children. Dan Pink praised the book as "the magic for any deal breaker," which you can now bring with you anywhere, to any negotiation.
Negotiating the Impossible | Amazon | Barnes and Noble | Indiebound | BK Bookstore | Audible
6. Your Happiness Was Hacked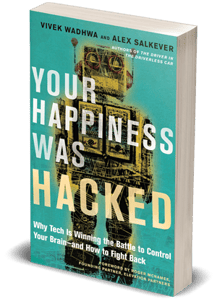 Another runaway hit from the authors of The Driver in the Driverless Car, tech experts Vivek Wadhwa and Alex Salkever follow up with this actionable book on how to balance and manage digital overload. While we may have previously—and perhaps blindly—believed that tech can solve all of our problems ranging from social ills to personal issues, Your Happiness Was Hacked is a provocative exploration into how tech may be ruling our lives rather than enhancing them. Wadhwa and Salkever ask tough questions about how tech companies are building products that distract and isolate us from each other, and offer practical solutions for how we as individuals can manage our relationship with the digital. Covering everything from our addiction to social media platforms and the psychology of sleeplessness as a result of smartphones, Your Happiness Was Hacked is a timely book that helps readers re-center themselves and take back control from technology.
Your Happiness Was Hacked | Amazon | Barnes and Noble | BK Bookstore | Indiebound | Audible
7. The Shift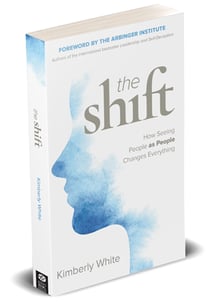 "Never in my wildest dreams," Kimberly White writes in CEOWorld, "did I imagine I'd discover the secret to employee happiness in a nondescript and unassuming place: a nursing home."
When she began researching how The Arbinger Institute's ideas were being implemented in nursing homes, Kimberly White was astonished to discover that those who choose to care for the elderly and ill—earning low pay in a maligned industry—were nevertheless full of satisfaction, compassion and love. The reason? Their ability to truly see their patients as real people. In a world where many of us see people as objects, solely in terms of their usefulness to us, White's research became a personal exploration of how to see the people in her own life as people in that same profound way. When she did, her entire world changed—and so will the reader's.
The Shift | Amazon | Barnes and Noble | Indiebound | BK Bookstore | Audible
8. Trauma Stewardship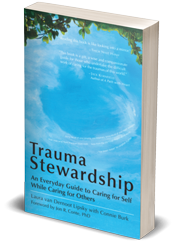 "This book is a gift," says bestselling author Jack Kornfield, "a wise and compassionate guide for those who undertake the difficult work of caring for the traumas of this world."
Trauma Stewardship is a longtime bestseller for Berrett-Koehler. Written for people who work to make the world a better place, and in doing so must constantly confront pain, suffering, crisis, and trauma head-on, the book shows how to respond to suffering not by hardening our hearts or by internalizing others' struggles as our own, but by developing a quality of compassionate presence. Keep an eye out for author Laura van Dernoot Lipsky's next book, The Age of Overwhelm, available worldwide on July 10th!
Trauma Stewardship | Amazon | Barnes and Noble | Indiebound | BK Bookstore | Audible
9. Eat That Frog!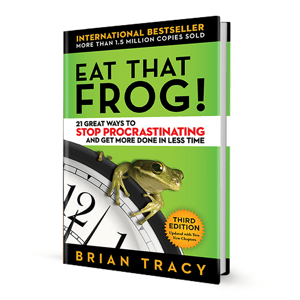 With a vast wealth of expertise spanning time management, self-development, personal wealth, business, and leadership, internationally bestselling author Brian Tracy once again graces our list this month with his classic book Eat That Frog!, which has sold over 2 million copies worldwide and translated into 46 languages.
In Eat That Frog! Tracy cuts to the core of what is vital for effective time management: decision, discipline, and determination. The latest edition is accompanied by an interactive card deck and workbook, making getting your life organized fun and and engaging!
Eat That Frog! | Amazon | Barnes and Noble | Indiebound | BK Bookstore
10. Talent Magnet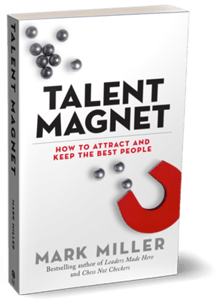 More than vision, strategy, creativity, marketing, finance, or even technology, it is ultimately people that determine organizational success. That's why virtually every organization wants more top talent. Building upon the success of Chess Not Checkers and Leaders Made Here, Mark Miller's latest installment of The High Performance Series,Talent Magnet, shows readers how to attract and keep great people.
Talent Magnet | Amazon | Barnes and Noble | Indiebound | BK Bookstore | Audible
---