A good nonfiction book doesn't just give you new ideas: it shifts your frame of reference for the entire conversation. During our decades in the publishing industry, we've always looked for authors with the eloquence and vision to reframe vital conversations about interpersonal relationships, public space, and the professional world. As both a certified B Corporation and California Benefit Corporation, we're legally accountable to people and the planet as well as profits. Our approach toward change is helping readers see age-old problems in a fresh new light. This post spotlights ten of our bestsellers that have driven strong change in the world.
1. Love 'Em or Lose 'Em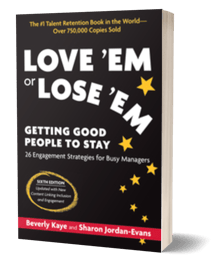 (750,000+ copies sold) Since employees who walk out the door cost their companies up to 200 percent of their annual salaries to replace, retention is one of the most important issues facing businesses today. Yet leaders and managers can be prone to blame-shifting, suggesting that staff are simply not committed or hard-working enough. This Wall Street Journal bestseller provides a reality check. Regardless of position within the organization, there is plenty any manager can do to improve the working conditions of the people on their staff.

Organized around twenty-six simple strategies, one for each letter of the alphabet, Love 'Em or Lose 'Em offers managers ways to address their employees' real concerns. Light-hearted chapter titles range from "Jerk: Don't Be One" to "Question: Reconsider the Rules." This book has changed the conversation because it has helped so many in leadership see it as their responsibility to create an environment that meets a worker's needs (rather than a worker's responsibility to adapt to a tough environment).
2. Change Your Questions, Change Your Life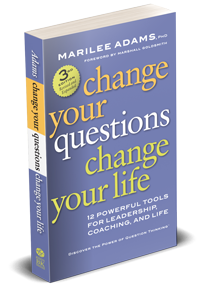 (380,000+ copies sold) When we're looking for answers, we often forget to take the time to ask the right questions. But, as Marilee Adams shows, intentionally using questions helps us make wise choices that transform our personal and professional lives. The right question gives us the right tool to reframe how we see our situation. It opens up creative possibilities that were hidden right under our noses the whole time.

Drawing on decades of research and experience as a coach and consultant, in Change Your Questions, Change Your Life, Adams shows us how to shift from "judger mindset" to "learner mindset." We can let go of questions that judge our environments and ourselves, questions that may be undermining our hope for the future. This book helps you find the questions that open you up to joy and connection. For example, asking "What great things could happen today?" creates very different expectations than asking "What could go wrong today?"
3. The Outward Mindset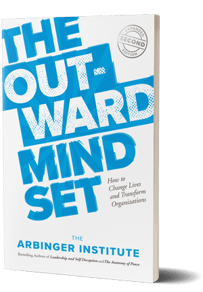 (360,000+ copies sold) Without even being aware of it, many of us operate with an inward mindset — a single-minded focus on our own goals and objectives. The Outward Mindset shares compelling true stories of how people and organizations discovered the gap between their actual inward mindsets, and the outward mindset necessary to moving forward.
In the long run, changing negative behavior without changing one's mindset doesn't last — the old behaviors always reassert themselves. But changing the mindset that causes the behavior changes everything. When you make a habit of seeing situations through the eyes of others, everything changes.
And the change absolutely has a ripple effect. By practicing an outward mindset, you invite change in the mindsets of those around you. After all, the greatest leaders and companies of the future are facing outward and toward each other.
4. Trauma Stewardship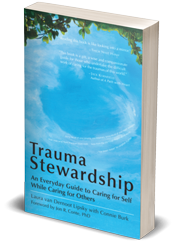 (230,000+ copies sold) Laura Van Dernoot Lipsky is the founder and director of The Trauma Stewardship Institute, and she has dedicated the last three decades of her life to working in the field of trauma. Those who work in trauma care (nurses, social workers, teachers, and more) need to be empowered to care for themselves while caring for others. Otherwise the heavy burden of secondary trauma will overwhelm them, and they will burn out.
Trauma Stewardship teaches trauma care workers to respond to suffering in a thoughtful, intentional way. If you internalize the struggles of others too much, compassion fatigue will set in. Maintaining a compassionate presence simultaneously with the emotional detachment necessary for self-preservation can be challenging. Lipsky offers a variety of practices, drawn from modern psychology and a range of spiritual traditions, to help us discover new sources of energy and renewal.
5. I Moved Your Cheese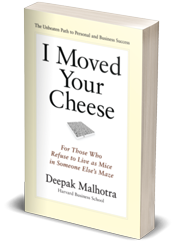 (210,000+ copies sold) If you were a mouse trapped in a maze and someone kept moving the cheese, what would you do? In a world where most mice dutifully accept their circumstances, ask no questions, and keep chasing the cheese, Deepak Malhotra tells an inspiring story about three unique and adventurous mice — Max, Big, and Zed — who refuse to accept their reality as given.
This book was written as a retort of sorts to the bestseller, Who Moved My Cheese? That book does offers some reasonable advice about adapting to change, urging readers to accept what is beyond their control and find ways to adapt and move on. But for all its good intentions, it ultimately advises us to unquestioningly accept our circumstances without exploring any possible alternatives, like mice in a maze mindlessly chasing after cheese.
I Moved Your Cheese, written by Harvard Business School professor and bestselling author Deepak Malhotra, tells an inspiring story about a new generation of mice who begin to challenge assumptions and ask important questions. When we kill key false assumptions, changes can reverberate throughout the whole system. What if the things that we're assuming are beyond our control, can actually be changed by collective action?
6. Humble Inquiry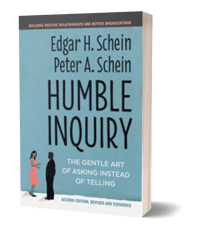 (220,000+ copies sold) We live, say Edgar and Peter Schein in Humble Inquiry, in a culture of "tell." To be perceived as an authority or an expert, you're supposed to TELL people all the answers. Tragically, this arrogant approach to expertise can be detrimental to relationships and problem solving. Humble inquiry is "the gentle art of drawing someone out, of asking questions to which you do not know the answer, of building relationships based on curiosity and interest in the other person." When we practice humble inquiry, we build relationships instead of divides. We build true insight instead of alpha wolf authority.
The idea is to shift not just your speech patterns, but your entire attitude: become better at listening, responding, and being vulnerable. It's time to drop the addiction to telling others what they need to know or should do. Whether we are leading or following, what matters most is we get to the truth! We have to develop a commitment to sharing vital facts and identifying faulty assumptions. Learning the skill of humble inquiry can mean the difference between success and failure: it can alter the whole path of your life.
7. The Body Is Not an Apology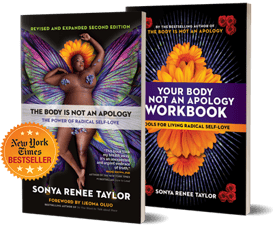 "Taylor invites us to break up with shame, to deepen our literacy, and to liberate our practice of celebrating every body and never apologizing for this body that is mine and takes care of me so well." — Alicia Garza, co-creator of the Black Lives Matter Global Network and Strategy + Partnerships Director, National Domestic Workers Alliance
(190,000+ copies sold)
The Body Is Not an Apology
offers radical self-love as the balm to heal the wounds inflicted by the violent systems of this world. World-renowned activist and poet Sonya Renee Taylor offers this New York Times bestseller (now with an accompanying workbook) to help us unlearn the body shame and body hatred which we've been taught to apply to ourselves and others. As we awaken to our own indoctrinated body shame, we feel inspired to awaken others and to interrupt the systems that perpetuate body shame and oppression against all bodies. When we act from this truth on a global scale, we usher in the transformative opportunity of radical self-love, which is the opportunity for a more just, equitable, and compassionate world — for us all.
8. Breaking Through Gridlock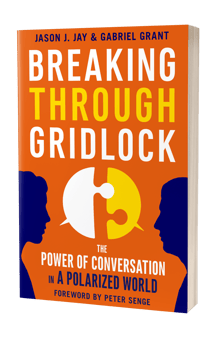 (160,000+ copies sold) Think about the last time you tried to talk with someone who didn't already agree with you about issues that matter most. How well did it go? These conversations are vital, but too often get stuck. They become contentious, or we avoid them because we fear they might. It can be infuriating when other people appear to be approaching a conversation without regard for your basic values. However, with the right tools, you can approach the conversation in a way that doesn't compromise your values OR your relationships. You don't have to resort to conflict avoidance or bothsidesism.
Our divergent values can actually provide healthy fuel for dialogue and innovation: they don't have to lead to gridlock and polarization. Jason Jay and Gabriel Grant invite us into a spirit of serious play, laughing at ourselves while moving from self-reflection to action. Breaking Through Gridlock helps us become aware of the role we unwittingly play in getting conversations stuck. It empowers us to share what really matters — with anyone, anywhere — so that together we can create positive change.
9. Decolonizing Wealth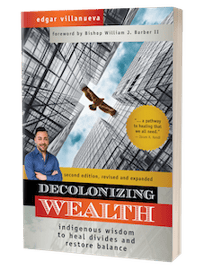 (50,000+ copies sold) Decolonizing Wealth is a provocative analysis of the dysfunctional colonial dynamics at play in philanthropy and finance. Award-winning philanthropy executive Edgar Villanueva draws traditions from the Native way, showing us a new way forward. This Native activist describes the way money can be used as medicine for restoring balance, and healing the terrible divides and wounds caused by our colonial history.

Sadly, the philanthropic industry has evolved to mirror colonial structures and reproduce hierarchy, often doing more harm than good. Edgar Villanueva has seen past the field's glamorous, altruistic façade, and into its shadows: the old boy networks, the savior complexes, and the internalized oppression among the "house slaves" and those select few people of color who gain access. All these funders reflect and perpetuate the same underlying dynamics that divide Us from Them and the haves from have-nots.
Decolonizing Wealth denounces the reproduction of systems of oppression, while showing how philanthropy can orient itself towards justice. It offers seven steps for healing, which together we can use to fix what a brutal colonial history has left broken.
10. We Can't Talk About That at Work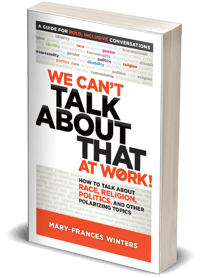 (30,000+ copies sold) Politics, religion, race — we can't talk about topics like these at work, right? But in fact, these conversations are happening all the time, either in real life or virtually via social media. And if they aren't handled effectively, they can become more polarizing and divisive, impacting productivity, engagement, retention, teamwork, and even employees' sense of safety in the workplace. But you can turn that around and address difficult topics in a way that brings people together instead of driving them apart.
Instead of shutting down any mention of taboo topics, in We Can't Talk About That at Work!, Mary-Francis Winters shows how to structure intentional conversations about them, so people can safely confront biases and stereotypes and create stronger, more inclusive organizations.
What Should Be the Next Conversation?
Books with a ripple effect give people new tools for approaching and thinking about their lives: adjusting their focus, the assumptions they make, the goals they choose, and their approaches toward relationships.
What do you think should be our next bestseller? What mindsets, questions, assumptions, and attitudes are in most dire need of change in our world today?