People don't trust their leaders. According to a recent Forbes article, trust in CEOs is at an all-time low after plunging by 12 points this year, and 63% of employees say that CEOs are not credible. When employees do not trust their leaders, instability typically follows:
Lack of trust creates an environment where concerns quickly evolve into fears. And when fears collide with a belief that the system is failing, trouble results. Also as distrust and fear increase, the negative impact on employee morale, engagement and performance accelerate. The end results are disengaged employees, frustrated management and lower profits.
This begs the question: can leaders change? How can you teach someone to be a trustworthy, authentic leader? The answer, sadly, is: you can't. Authentic leadership is not something you can be taught with the "right" tools and tips—but according to leadership experts Jim Kouzes and Barry Posner, it can be learned.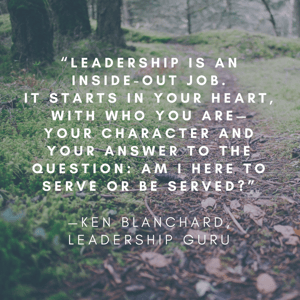 Sounds a bit contradictory, right? But it's really not. You can't become an authentic leader from getting a promotion, reading a book, or attending a workshop—and neither is it some innate talent you are born with. To succeed in becoming a trustworthy leader—a servant leader—you must look within. Are you a leader who serves or one who is served? Do you care about your organization as a whole, or do you care about how your organization serves you? Self-awareness is key.
What is a servant leader, you ask? A simple definition is someone who "focuses primarily on the growth and well-being of people and the communities to which they belong." By concerning yourself with the growth and welfare of your employees, you give them a voice—and through listening to them and sharing with them your true self, you earn credibility as a leader.
Authentic servant leadership flows from the inside out. It does not come from the outside in. Inside-out leadership is about discovering who you are, what drives you to do what you do, and what gives you the credibility to lead others. Inside-out leadership is about becoming the author of your own story and the maker of your own history. Inside-out leadership is also the only way to respond to what your people want from you. And what is that? What they most want is to know who you genuinely are.
Finding your voice is critical if you are to be a servant leader. If you don't find your voice, you may find yourself with a vocabulary that belongs to someone else, mouthing words that were written by a speechwriter who is nothing like you at all.
The turning point in your development as a leader comes when you're able to merge the lessons from your outer and inner journeys. You awaken to the fact that you don't have to copy someone else and you don't have to read a script written by someone else. Unless it's your words, your style, and your values—then it's not really you. It's just an act—you pretending to be you.
To lead others, you have to learn about yourself. After all, if you are to speak out, you have to know what to speak about, and if you are to stand up for your beliefs, you have to know the beliefs you stand for. To do what you say, you have to know what you want to say. Authentic servant leadership cannot come from the outside in. It comes from the inside out.

You can learn to lead, but don't confuse leadership with position or place. Don't confuse leadership with talent. And don't confuse leadership with tools and techniques. They are not what earn you the respect and commitment of your people. In the end, what earns you their respect is whether you are you.
So just who are you, anyway? Are you a leader who is here to serve or be served?
James M. Kouzes and Barry Z. Posner are coauthors of the bestselling, award-winning book, The Leadership Challenge: How to Make Extraordinary Things Happen in Organizations and more than a dozen other books on leadership. Jim is Dean's Executive Fellow of Leadership at the Leavey School of Business, Santa Clara University, and Barry is Accolti Endowed Professor of Leadership at the Leavey School of Business.
---
This article is adapted from an essay by James M. Kouzes and Barry Z. Posner that is featured the forthcoming book, Servant Leadership In Action edited by Ken Blanchard and Renee Broadwell. Click here for more information.