It brings me much joy to see the increase in commitment to servant leadership that is occurring in the marketplace. When I began talking about servant leadership 10 years ago, it was considered a topic for a small niche of people, largely in religious and charitable organizations. It had no momentum. It was not "on trend." It was a dated, stagnant, and stalled conversation.
Then, fresh voices arrived on the scene – sharing the tenets of servant leadership in new narratives. A new generation of leaders arrived, millennials, and they expected a fresh approach to leadership. They weren't impressed with the leaders of the boomer generation. They were so certain that the conversation needed to change – they were willing to walk away from large, corporate jobs to start new entrepreneurial ventures that embraced their values. The wake-up call came, demanding that leaders reconsider their leadership approach.
I am encouraged, excited, and hopeful that we're approaching a tipping point – where servant leadership is no longer for weirdos, but is for the people ahead of the curve, the early adopters – the future leaders of the world.
I pause here to celebrate the thought leaders that have been committed, steady voices for the principles of servant leadership – never relenting until the message regained strength and credibility. One of those voices is the publisher of this blog, Berrett-Koehler (BK). In 2004, they published Robert K. Greenleaf: A Life of Servant Leadership. When I went to BK in 2014 with a business case for servant leadership, Dare to Serve, they promptly agreed to publish my book. When Ken Blanchard came forward with his new work, Servant Leadership in Action, it was Berrett-Koehler who published it and built an online course featuring 40 leaders who put servant leadership to work. I'm deeply grateful to BK Publishers for following their heart — and acting on this conviction that servant leadership has merit.
But there is still much to be done. There are still major gaps in knowledge and understanding. There are still many people who have never heard of servant leadership — living oblivious to its benefits to people and performance. Today, I will tackle one of the reasons why I believe servant leadership has not yet become widely adopted.
The problem? Proponents of servant leadership present well the tenets of caring, respecting, and being concerned for others — the loving acts required in servant leadership. But we shy from and even avoid the tougher topics of excellence, performance, and accountability. We need to "toughen up" in order to build a credible case for servant leadership.
Our standards are not high enough. Our love is not tough enough.
If you've observed parents raising children in this world, you know exactly what I mean. Loving kids is not just hugs and kisses; it's also rules and boundaries. It's putting them in "time out." It's teaching them the consequences of their actions. Parenting is a demanding combination of unconditional love (the hugs) and disciplined high standards (the rules).
The same is true of servant leadership. It is both "loving" and "tough," and it must be both in order to help the people and the organization become the best they can be.
What does tough love look like in the "real world?" Here are eight examples:
Setting bold, hairy, audacious goals for our teams. these can be plausible, possible goals, but goals that challenge them and require them to change, grow, and perform beyond their expectations.
We assign projects to people that push them out of their comfort zones, building and broadening their skills and experiences.
We set expectations that the work will be excellent, not average, and we use real data from our competitors to confirm that our work is actually "WOW."
We call victims out – people who hide behind blame and excuses – and we ask them to rise up and own their stuff for the sake of the team.
We celebrate wins yet remain vigilant and honest about competitors, redefining success.
We are brave enough to make our goals very specific and measurable, such that we never hide mediocre performance and expose a lack of accountability to our teams.
We take performance reviews seriously and provide concrete feedback on what went well and where opportunity lies. We are not casual in our preparation; instead, we invest in the greatest asset we have – our people.
We confront truths with real talk and are willing to suffer through conflicting views until we reach the best outcome for the people and the enterprise.
As servant leaders, we care about the people and the enterprise so much that we stretch them to grow, improve, and perform to the very best of their abilities. We deliver on our commitments. We hit our numbers. This how we demonstrate our genuine concern for the people.
The credibility and momentum of the servant leadership movement hinge on our ability to articulate both the love and the toughness required. Together, let's raise the bar!
---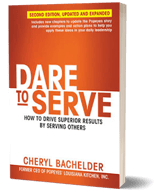 Cheryl Bachelder is the CEO who led the remarkable turnaround of Popeye's Louisiana Kitchen, Inc. from2007 to 2017. She is the author of the best-selling book, Dare to Serve: How to drive superior results by serving others. She blogs at Serving Performs: www.cherylbachelder.com.