I came to Berrett-Koehler from a previous position of customer service manager where I was responsible for managing a team of representatives who dealt directly with customer happiness. Unfortunately, it was in an industry where earning customer trust is notoriously difficult and with a company that was failing to live up to what its salespeople promised (the moon).
I saw my team beat down, burnt out, and sometimes even crying after handling complaints. It hurt me because I knew I had cultivated this team of amazing, capable individuals and I felt responsible for subjecting them to what seemed like torture. I was a general knowingly sending my army to slaughter.
While reading through the third edition of A Complaint Is a Gift by Janelle Barlow, I was moved by chapter 8, "Developing Mental Fortitude." In this chapter, Barlow introduces a five-step foundational process for developing the mental fortitude to field customer complaints without losing your mind.
Step 1: Avoid taking complaints personally
You're so vain, you probably think this complaint is about you. You need to acknowledge and embrace the fact that a customer's anger has nothing to do with you. Even if you're the CEO and founder of a company, the customer's anger is always about something that occurred, not a person. This first step probably invokes an "easier said than done" scoff from most people, but I promise if you embrace the process, you'll begin to believe it.
Step 2: Be aware of both your and your customer's emotions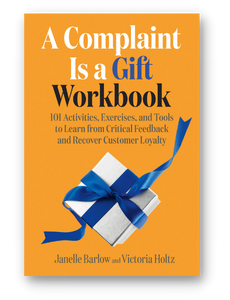 Empathy is the cornerstone of great customer service, but it's also important to be aware of the emotions you are feeling during difficult interactions with customers.
Barlow says, "Humans are naturally good at recognizing emotions in other people. We may not be as good in recognizing our own emotions. Good complaint handling requires being able to recognize and name emotions in both yourself and your customers."
In A Complaint Is a Gift Workbook by Janelle Barlow and Victoria Holtz, twelve activities are dedicated to building empathy and reading emotions, including the following:
Empathy is as important as refunds
Reading emotions
What's my impact on my customers?
Building empathy
Step 3: Clear your mind after receiving a problematic complaint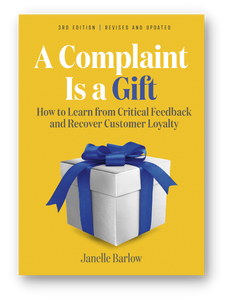 Barlow stresses the importance of creating an "escape hatch"—a kind of decontamination zone between work and home or time to center yourself after a particularly difficult interaction. She says an escape hatch should be a clear signal for you that your workday has ended and should leave you with more energy than you started with, such as going to the gym.
For me, the actions of closing my work laptop, turning off my mouse, and switching my monitor back to my personal computer make me feel like I'm turning a release valve and clearly signify to my brain that I am done thinking about work.
Barlow also suggests that if you're working in a call-center environment, you can find somewhere nearby that is free from work stress to designate as your escape hatch. Between difficult calls, you can visit your escape hatch to intentionally unwind.
Step 4: Learn from difficult customer interactions
Although it's important to release yourself from the stress of complaint handling, you also want to ensure that you're learning from those interactions. Barlow suggests taking a break to talk with colleagues about difficult encounters—not as a bash or vent session but to glean new and creative ways to handle similar situations from your coworkers.
Step 5: Show your customers they are important to you
Lastly, Barlow urges you to show customers they are important to you and their happiness matters. Align yourself with the customer and make sure they know that you understand them. Barlow says, "The language of partnership ('we' and 'let's') enhances the feeling of reciprocity. Use it as often as you can."
She explains that during a complaint, the resolution does not matter as much as how the resolution comes about. Treating a customer with respect, making it clear through language and body language that you care, and being sincerely apologetic when you have to say no to their request can help turn a complainer into a happy customer.
During my years in customer service, I've learned a lot of this information before. I've put a lot of it into practice. But until now, I had never found a resource put together this comprehensively and easily digestible. It's hard, and sometimes I've failed in my ability to make an unhappy customer feel valued and heard. But as they say, practice makes perfect. A Complaint Is a Gift and A Complaint Is a Gift Workbook are valuable assets for any individual or team that handles customer complaints. I wish I'd had this set of books for myself and my team when I was managing at my previous company.