My first full-time job after college in the late 1970s was with a small publishing company in San Francisco called Jossey-Bass Publishers. At that time Jossey-Bass was still run by its founder, whose management style was autocratic and controlling in numerous ways—typical of many founders. For example, all of the company's mail each day went straight to him, and he would open the mail and scribble on each letter or document his thoughts about the matter. Then we employees would get our mail with the CEO's instructions for how to proceed.
This CEO's style was micromanagement and command and control carried to an extreme, and I knew that it was not an effective way to engage the talents and energy of the employees or to run an organization. I became a change agent within the company and started trying to show the CEO how his style of "one leader and seven assistants" (as I called it) was not effective—and what would be a more effective style instead.
The main outcome of my interventions was that the CEO made me a manager and gave me increasing levels of responsibility, until I eventually was leading the company. Over the next ten years—as the CEO became ill and gradually retired from active leadership—we were able to change the culture and management practices of the company to make them collaborative and participative to engage the talents and energy of everyone.
However, when Jossey-Bass Publishers was sold to a giant media conglomerate in 1989, it became a division of a large international publishing company, and we faced a new set of challenges. These challenges were still rooted in the old command-and-control paradigm of leadership but were at the opposite end from the challenges of working with a single autocratic founder.
As Jossey-Bass president in San Francisco, I was now reporting to a bureaucratic manager in New York City who did not really understand our company or how it worked. Worse, I quickly learned that nothing mattered anymore besides the dictates of the corporate parent, which often were completely disconnected from the realities our company faced. Jossey-Bass at the time had many employees (including me) who had been with the company for ten to twenty years, and we had close relationships with many authors, suppliers, and other stakeholders. But now everything was being dictated by a call from my bureaucrat boss in New York, with little or no consideration of the wisdom of our employees and our other stakeholders. And little of what this corporate overlord dictated added any value to our company or made us more profitable or more successful.
Finally, in 1991, I was given a corporate order that would have required firing more than 10 percent of the Jossey-Bass staff. The order made no sense in any way and would have severely harmed Jossey-Bass. After I refused to follow this corporate order, I was fired instead. The story of how this transpired and how it led to the founding of Berrett-Koehler Publishers is told here.
Since Berrett-Koehler's founding in 1992, we have strived to advance a new paradigm of leadership to replace the old, dominant, hierarchical, command-and-control paradigm. Some of the themes of this new paradigm are suggested in the titles of BK books:
We owe much of Berrett-Koehler's success to "eating our own cooking"—putting the ideas espoused by these and other books we have published into practice in our own company.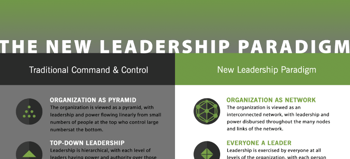 In my chart The New Leadership Paradigm I lay out ten dimensions of the old command-and-control leadership paradigm and ten corresponding dimensions of the new paradigm, which might be called "shared leadership," "servant leadership," or "collaborative leadership."
These ten dimensions were drawn from concepts in BK books. But they also reflect experiences I have had over the years—both those described above and many other experiences interacting with numerous organizations.
And I believe that most of you have had your own experiences that reveal the shortcomings of traditional leadership approaches and the possibilities of new leadership approaches—and how the new approaches have played out in organizations in which you have worked. Some of you might even have stories of applying ideas from BK books in your organizations.
I'd love to hear your stories. Please share them in the comments below.
Here is a sneak peak of what you will learn in the chart:
---
What are the principles of the New Leadership Paradigm?
The organization is viewed as a network, not a pyramid: power is disbursed.
Everyone is a leader, not a select few: utilize people's strengths.
Collaboration is essential, not the exception: leadership through mutual respect.
Purpose is what drives a company, not just profit: motivation, not money.
Leaders are here to serve, not be served: benefiting everyone.
---