You're probably familiar with The Arbinger Institute, the powerhouse that has produced cutting edge research and programs on leadership, organizational development, and improving productivity, creativity, and trust among teams. We've partnered with Arbinger for over twenty years, publishing a suite of bestselling books that follow true stories of leaders who tackle personal, professional, and global conflict, and the impact of Arbinger's ideas on individuals and organizations around the world continues to grow.
The Arbinger Institute is an organization that truly eats its own cooking and strives to create a world that works for all. After a recent visit to Arbinger's headquarters, we left even more inspired and energized to change lives and transform organizations. Arbinger's effort to #TurnTheWorldOutward is just getting started, and we invite you to join the movement!
The mindset of #TurnTheWorldOutward is built into the Arbinger suite—a trio of titles that top our bestseller list and reach new readers year after year. These books are not only foundational, but they are continually updated to adapt to the increasingly complex obstacles leaders and organizations face. The third edition of Leadership and Self-Deception was released last fall, and the second edition of The Outward Mindset just debuted. We even have something in the works for The Anatomy of Peace … Stay tuned!
Whether you're new to Arbinger or a loyal reader, here's a closer look at the topic, its impact, and how people are using these books in their organizations for a deeper understanding of just how Arbinger is turning the world outward:
Leadership and Self-Deception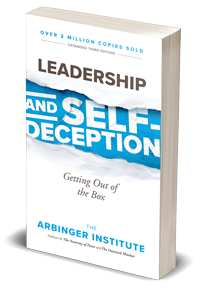 The key to leadership lies not in what we do but in who we are. After all, problems can't be solved if, as leaders, we are resistant to the possibility that we may be at fault. That's why the teachings of Leadership and Self-Deception resonate with so many readers, including managers, executives, and CEOs.
Since its first publication nearly two decades ago, this book has deeply impacted individuals and organizations and provided a roadmap for getting out of the box. In the newest edition, the Arbinger Institute reflects on its impact and focuses on five major ways that the book can be used: for screening and hiring new talent, team building, conflict resolution, building accountability systems, and personal growth and development.
Following the hearteningly relatable story of a man facing challenges at work and at home, we are exposed to the many ways that we can blind ourselves to our true motivations and unwittingly sabotage the effectiveness of our own efforts to achieve success and increase happiness. We avoid self-reflection and trap ourselves in a "box" of endless self-justification. This book shows us the way out.
And don't just take our word for it – Stuart Butterfield, CEO of Slack, recommended this book to his entire team as the "most useful book" for getting outside of the box and improving team dynamics.
Leadership and Self-Deception | Amazon | Barnes & Noble | Indiebound | BK Bookstore | Audible
The Outward Mindset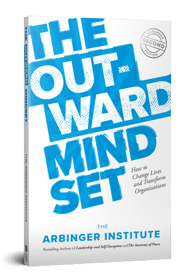 Without even being aware of it, many of us operate with an inward mindset—a single-minded focus on our own goals and objectives. The Outward Mindset digs deeper into how we understand "mindset" and helps individuals and organizations increase engagement, improve performance, spark collaboration, accelerate innovation, and make their own life and the lives of everyone around them better.
The Outward Mindset presents compelling true stories to illustrate the gaps that individuals and organizations typically experience between their actual inward mindsets and their needed outward mindsets. And it provides simple, yet profound, guidance and tools to help bridge this mindset gap. In the long run, changing negative behavior without changing one's mindset doesn't last—the old behaviors always reassert themselves. But changing the mindset that causes the behavior changes everything.

By practicing an outward mindset, you invite change in the mindsets of those around you. After all, the greatest leaders and companies of the future are facing outward and toward each other. The newest edition of this book will provide you with the tools to create a game plan and get started!
The Outward Mindset | Amazon | Barnes & Noble | Indiebound | BK Bookstore | Audible
The Anatomy of Peace
Conflicts at home, conflicts at work, and conflicts in the world all stem from the same root cause. Yet, we often systematically misunderstand that cause and unwittingly perpetuate the very problems we think we are trying to solve. The Anatomy of Peace explores how we can misunderstand the causes of our conflicts and shows us the path to achieving true peace within ourselves and our relationships.
Since its release in 2006, The Anatomy of Peace has found its way into numerous conflict-resolution spaces, and its message remains as relevant as ever. Following the stories of Yusuf al-Falah, an Arab, and Avi Rozen, a Jew, who each lose their fathers at the hands of the other's cousins, The Arbinger Institute challenges readers to move beyond seeing people as objects.
"No one can force a warring heart upon us. When our hearts go to war, we ourselves have chosen it," shares the character, Yusuf. While we may not choose to be at war, the choice to despise, rage, denigrate, and belittle others is entirely ours. Essentially, to have a heart at war is to see people as objects. By carrying a warring heart, we invite others to respond with their own warring hearts, further perpetuating a cycle of pain and broken trust.
The Anatomy of Peace is a story of how two men come together and help their warring parents and children come together, and how we, too, can find our way out of the personal, professional, and global conflicts that weigh us down, even when war is upon us.
The Anatomy of Peace | Amazon | Barnes & Noble | Indiebound | BK Bookstore | Audible
The Arbinger Suite has helped hundreds of thousands of individuals, teams, and organizations achieve breakthrough results and total transformation. The suite covers all of your bases, including your personal development, managing teams, and repairing relationships. Get the trio and take your organization to the next level today!
About the Arbinger Institute
Through delivering training, consulting, coaching, and digital tools, the Arbinger Institute helps real people improve relationships and results. After building a 35–year track record with clients, Arbinger is now recognized as a world leader in the areas of mindset change, leadership, team building, conflict resolution, strategy, and culture change. Their clients range from individuals who are seeking help in their lives to many of the largest companies and governmental institutions in the world.