Project managers wear many hats: leader, administrator, team member, and the go-to person for the projects they oversee. Yet focusing on the people instead of the project often is understandably tricky for some managers who haven't been trained to do so. These four comprehensive guides on project management are must-reads because they cover the A-Zs of everything it takes to be a successful project manager.
The Complete Project Manager: Integrating People, Organizational, and Technical Skills
By Randall Englund and Alfonso Bucero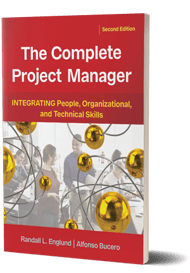 This massive guide—the second, updated, and expanded edition of which is forthcoming fall 2019—addresses the "soft" project management skills that are essential to successful project, program, and portfolio management. Project management experts and researchers Randall Englund and Alfonso Bucero use a storytelling approach to explain the necessary skills and how to use them to create an environment that enables high-achieving results for projects.
The authors stress the importance of management to encourage project success—management that begins on a personal level. They write, "We have observed that many people put too much emphasis on decision-making and too little on decision managing. As a result, they lack focus, discipline, intentionality, and purpose. … Successful people make right decisions early and manage those decisions daily. Some people think that self-leadership is about making good decisions every day, when the reality is that we need to make a few critical decisions in major areas of life and then manage those decisions day to day." The book expands on this concept, covering both the "why" and the "how" of creatively applying soft skills to project management in the areas of leadership, conflict resolution, negotiations, change management, and more.
The Complete Project Manager | BK Bookstore
Be a Project Motivator: Unlock the Secrets of Strengths-Based Project Management
By Ruth Pearce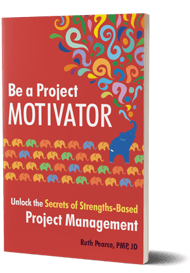 Successful project managers must engage and motivate others to achieve complex goals. Ruth Pearce's book shows how behavior, language, and attitudes affect engagement and how leveraging character strengths can help improve relationships, increase innovation, and build higher-functioning teams. This focus on character strengths—such as bravery, curiosity, fairness, gratitude, and humor—can help project managers recognize and cultivate the things that are best in themselves and others.
Pearce writes, "I believe that having the skills to engage ourselves and others is not just a nice added value but also essential for us to be effective and to enjoy our role. Being project motivators elevates us within the organizations for which we work, and it elevates the organizations themselves." Many project managers do not have the authority to direct the activities of people on their teams—but they can influence them. The most influential people succeed by focusing less on themselves and their message and more on others, making connections and alignments between their personal needs and team goals.
Be a Project Motivator | Amazon | Barnes and Noble | Indiebound | BK Bookstore | Audible
The Eight Essential People Skills for Project Management: Solving the Most Common People Problems for Team Leaders
By Zachary Wong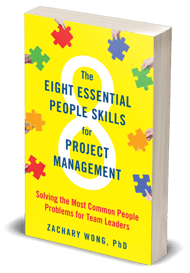 Being successful at project management takes a combination of knowing human psychology, organizational behaviors, and human factors; having supervisory, process, and communication skills; ensuring good teamwork, high integrity, and strong leadership; and having the ability to integrate and apply these skills to a diverse work team. Zachary Wong distills the critical people skills all project managers must have into eight actions:
Diagnosing and correcting people problems
Being tough on people problems without being tough on people
Building highly successful teams
Boosting people's attitudes, happiness, and performance
Turning around difficult people and underperformers
Motivating the right team behaviors
Succeeding when faced with changes, problems, and new challenges
Gaining favor and influence with your boss
Wong writes, "These eight essential people skills are a set of practical strategies, methods, tips, and techniques to help you immediately improve as a project team leader. As one reader expressed, 'I need this material—you don't learn this stuff in school or at work and it relates to the things we actually face in the real world.'" Without these essential skills, project contributors will be harder to manage, and project managers will struggle with leading projects successfully.
The Eight Essential People Skills for Project Management | Amazon | Barnes and Noble | Indiebound | BK Bookstore
The Unwritten Rules of Managing Up: Project Management Techniques from the Trenches
By Dana Brownlee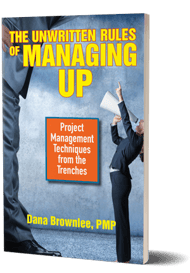 Project managers walk a fine line, not only ensuring they are getting the most from their teams but also dealing with superiors who bring their own expectations and opinions into the mix. Clueless leadership from a well-meaning boss can potentially cause more damage than anything you or your team does. Dana Brownlee's book provides refreshingly practical and candid insight into the best practices and techniques that project managers have successfully used for decades to manage a wide variety of senior-level stakeholders—ranging from the perfectly competent and pleasant to the downright dysfunctional and inept.
Brownlee writes, "Subordinates are too often faced with the Darwinian reality of needing to navigate their difficult boss's significant flaws in order to avoid poor business results, unpleasant work environments, or even personal career limitations. Indeed, learning to manage up is not a luxury but too often a necessity for success." Her book is not only for professionals seeking to enhance their workplace effectiveness but also for senior leaders interested in addressing their blind spots and coaching others toward a more collaborative, results-focused leadership approach.
The Unwritten Rules of Managing Up | Amazon | Barnes and Noble | Indiebound | BK Bookstore | Audible