April showers bring May flowers, and we're definitely seeing the fruits of our labor blossom! On May 1st, our new CEO/CFO David Marshall and President/Publisher Johanna Vondeling hit the ground running on their first day in their new leadership roles. The transition was led by our former CEO and founder, Steve Piersanti, who isn't going anywhere - we're thrilled to see what kind of books he'll bring in his new role of full-time acquiring editor.
While the leadership transition has been underway, we've been hard at work supporting our authors create a world that works for all. Bill Eddy, author of Why We Elect Narcissists and Sociopaths—and How We Can Stop!, sat down with Salon to talk about high-conflict leaders and how to deal with them. One of our top selling books from 2018, The Body Is Not an Apology, is also showing no signs of slowing down and was recently featured on Good Housekeeping's Best Books About Self-Love - might we suggest downloading of the audiobook? It was a runner-up on Audible's best self-development audiobook last year. And finally, a quick thank you to our favorite Avenger Mark Ruffalo for endorsing Decolonizing Wealth!
Don't know where to start with all of the awesome BK books? We can relate. Check out this month's bestseller list to find your next read!
1. The Arbinger Suite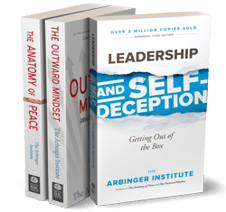 You've probably noticed that The Arbinger Institute's suite of titles, Leadership and Self-Deception, The Outward Mindset, and The Anatomy of Peace, top our list each month. This trio has helped hundreds of thousands of individuals, teams, and organizations achieve breakthrough results and total transformation by making the one change that most dramatically improves performance, sparks collaboration, and accelerates innovation.
Forbes recently included The Outward Mindset on their list of 17 Excellent Entrepreneurship Books You Can Read In A Weekend saying it is, "paradigm-shifting in both the areas of leadership development and change management" and "provides simple yet profound steps for improving our own personal interactions." For new entrepreneurs, you'll get a leg up by learning that focusing on others' goals will have an overall positive impact on your entire organization. And for those Leadership and Self-Deception mega-fans out there, we released the third edition of the bestselling classic last fall, so get up to speed with all of the new material featured in the book.
Leadership and Self-Deception | Amazon | Barnes and Noble | Indiebound | BK Bookstore | Audible
The Anatomy of Peace | Amazon | Barnes and Noble | Indiebound | BK Bookstore | Audible
The Outward Mindset | Amazon | Barnes and Noble | Indiebound | BK Bookstore | Audible


2. Eat That Frog!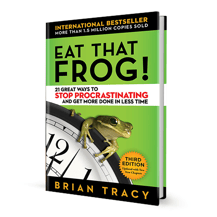 In Eat That Frog!, Brian Tracy suggests that you complete your most important task first thing in the morning. This book will provide productivity techniques to help you manage your time for the better. In the latest edition released in 2017, Tracy provides tips on using technology to your advantage to remind yourself of what is most important and protect yourself from what is least important. He also offers advice for maintaining focus in our era of constant distractions, electronic and otherwise.
Looking for a graduation gift? This book makes a great gift for students, colleagues, friends, family members, and engineers! Interesting Engineer recently referenced Eat That Frog! as a technique in How to Hack Your Way to Being a Super Productive Engineer Tips and Tools.
Eat That Frog! is available in multiple interactive formats, including a card deck, workbook, video training, and audiobook.
Eat That Frog! | Amazon | Barnes and Noble | Indiebound | BK Bookstore | Audible


3. Dig Your Heels In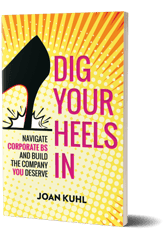 Biased, male-dominated corporate cultures have forced far too many women out of the companies they've aspired to work for—it's no wonder women at the beginning of their careers are leaving the corporate world in droves. But there is another way to fight for what you deserve, where you are, using the resources you've earned. Joan Kuhl helps women create a clear vision of what their career path deserves to be and make a convincing business case for equality to their managers and senior leadership. Kuhl also describes how to build support networks before you even need them and explains how to get actionable feedback that will help you get to the next level.
"Dig Your Heels In is a solid playbook that arms women with real-world strategies for disrupting the corporate world and getting what we deserve." —Sophia Amoruso, cofounder and CEO of Girlboss

Dig Your Heels In | Amazon | Barnes and Noble | Indiebound | BK Bookstore | Audible
4. Trauma Stewardship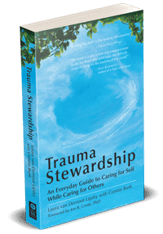 How do you care for yourself while caring for others? In Trauma Stewardship, Laura van Dernoot Lipsky offers a deep and empathetic survey of the many ways the stress of dealing with trauma manifests itself: feelings of helplessness and hopelessness, diminished creativity, chronic exhaustion, cynicism, and a dozen more. Oftentimes, we're not even fully aware of the toll this takes until we feel like we just can't go on anymore. But our well-being and the work we're doing are too important to risk that happening.
To keep from being overwhelmed, we need to respond to suffering in a thoughtful, intentional way—not by hardening our hearts or by internalizing others' struggles as our own but by developing a quality of compassionate presence. Lipsky offers a variety of simple and profound practices, drawn from modern psychology and a range of spiritual traditions, that enable us to look carefully at our reactions and motivations and discover new sources of energy and renewal.

Trauma Stewardship | Amazon | Barnes and Noble | Indiebound | BK Bookstore | Audible
5. The Body Is Not an Apology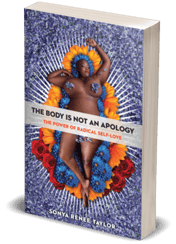 The Body Is Not an Apology is a global movement guided by love. This book invites us to embark on a personal journey of transformation with thoughtful reflection on the origins of our minds and bodies as a source of strength. In doing this, we not only learn to reject negative messages about ourselves but begin to thwart the very power structures that uphold them.
The Body Is Not an Apology is a gift, a blessing, a prayer, a reminder, a sacred text. In it, Taylor invites us to live in a world where different bodies are seen, affirmed, celebrated, and just. Taylor invites us to break up with shame, to deepen our literacy, and to liberate our practice of celebrating every body and never apologizing for this body that is mine and takes care of me so well. —Alicia Garza, cocreator of the Black Lives Matter Global Network and Strategy + Partnerships Director, National Domestic Workers Alliance

The Body Is Not an Apology | Amazon | Barnes and Noble | Indiebound | BK Bookstore | Audible
6. Help Them Grow or Watch Them Go, 2nd Edition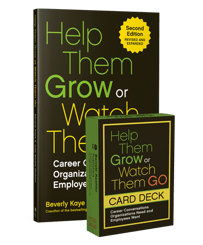 Study after study confirms that career development is the single most powerful tool managers have for driving retention, engagement, productivity, and results. But most managers feel like they just don't have time for any more meetings. This book offers a better way: frequent, short conversations with employees about their career goals that can be integrated seamlessly into the normal course of business.
The new edition of this must-read, practical guide includes advice on talent retention in the gig economy, and a new chapter on creating a career development culture in your organization. And the accompanying card deck shares the most insightful questions leaders worldwide have been asked, or wish they had been asked, to guide you through assessing your career development style, engaging others, planning a career conversation with your own manager, and more!

Help Them Grow or Watch Them Go | Amazon | Barnes and Noble | Indiebound | BK Bookstore | Audible | Card Deck
7. Stepping Up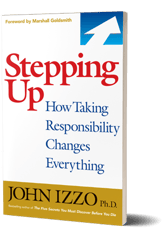 In his bestselling book The Five Secrets You Must Discover Before You Die, John Izzo tackled the secrets to lifelong happiness. Now he gives readers the key to a great career, a great workplace, better relationships, and a better world. Stepping Up argues that almost every problem, from personal difficulties and business challenges to social issues, can be solved if all of us look to ourselves to create change rather than looking to others. By seeing ourselves as agents of change we feel happier, less stressed, and more powerful.
Izzo offers seven compelling principles that enable anyone, anywhere, anytime to effectively bring about positive change. This book is filled with stories that will inspire you: a middle-aged Italian shopkeeper who fought back against the Mafia, two teenagers who took a stand and ignited an antibullying movement, an executive who turned a dying division into a profit center, and many more. We all have the power to change the world, and John Izzo shows us how.
Stepping Up | Amazon | Barnes and Noble | Indiebound | BK Bookstore | Audible
8. The Secret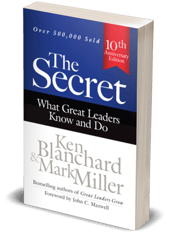 Making its debut on our bestseller list this month, this beloved business fable by Ken Blanchard and Mark Miller gets at the heart of what makes a leader successful. Newly promoted but struggling young executive Debbie Brewster asks her mentor the one question she desperately needs answered: "What is the secret of great leaders?" His reply—"great leaders serve"—perplexes her, but over time he reveals the five fundamental ways that leaders succeed through service.
As practical as it is uplifting, The Secret shares Blanchard's and Miller's wisdom about leadership in a form that anyone can easily understand and implement. This book will benefit not only those who read it but also the people who look to them for guidance and the organizations they serve.

The Secret | Amazon | Barnes and Noble | Indiebound | BK Bookstore | Audible
9. The B Corp Handbook, Second Edition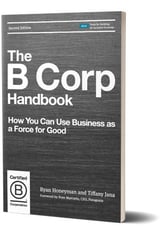 The second edition of this guide to B Corp certification just published in April and is already appearing on our bestseller list! B Corps are a global movement of more than 2,700 companies in 60 countries—like Patagonia, Ben & Jerry's, Kickstarter, Danone North America, and Eileen Fisher—that are using the power of business as a force for good. B Corps have been certified to have met rigorous standards of social and environmental performance, accountability, and transparency. And, Berrett-Koehler is a proud B Corp!
This new edition focuses on diversity, equity, and inclusion (DEI), which has become a core value for any company that aspires to make money and make a difference. While this book is framed around the B Corp movement, any company, regardless of size, industry, or location, can use the tools within to learn how to build a better business.

Not sold yet? Check out a provocative and revolutionary excerpt here

The B Corp Handbook | Amazon | Barnes and Noble | Indiebound | BK Bookstore | Audible
10. The New Confessions of an Economic Hit Man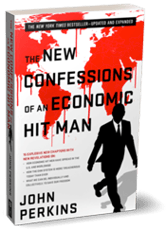 The original version of this astonishing tell-all book spent 73 weeks on the New York Times bestseller list, has sold more than 1.25 million copies, and has been translated into 32 languages. This new, expanded edition brings the story of economic hit men (EHMs) up to date and home to the US.
In the book, former economic hit man John Perkins details the ways he and others cheated countries around the globe out of trillions of dollars. He then reveals how the deadly EHM cancer he helped create has spread far more widely and deeply than ever in the US and everywhere else—to become the dominant system of business, government, and society today. As dark as the story gets, this reformed EHM also provides hope and an insider's view into how we can change this system. Perkins offers a detailed list of specific actions each of us can take to transform what he calls a failing Death Economy into a Life Economy that provides sustainable abundance for all.

The New Confessions of an Economic Hit Man | Amazon | Barnes and Noble | Indiebound | BK Bookstore | Audible