My last quarterly blog post for Berrett-Koehler focused on what servant leaders can do when someone they supervise is going off track and how to redirect, not reprimand, behavior. We received some welcome feedback from our readers, including a couple of great questions. In this post, I want to speak directly to readers and consider some of the very real problems that managers and emerging servant leaders face daily. These problems range in complexity, but can often be sorted into two categories: the "can't do" and the "won't do."
The "Can't Do" Problem
What if I don't have confidence and trust that a salesperson on my staff is capable of doing the job—and their poor sales results are proof of that?
We received this question from an aspiring servant leader who works as a sales manager. We call this a "can't do" problem. It could also be described as a "can't yet do" problem, because it happens when people are learners and don't yet know how to do what they are being asked to do.
The salesperson is demonstrating low competence in the skill of sales. A variety of obstacles may be getting in the way of their building their sales skills, but most likely, this person is still learning and feeling discouraged by their performance. In this situation, start by practicing a coaching leadership style with this disillusioned learner—a style where you provide the learner with both direction and support. This means you closely monitor the person's sales efforts—that's the direction part—and also engage them in two-way conversations about their progress—that's the support part.
During your conversations, go back and forth between your advice and the salesperson's questions and comments. The person needs praise and encouragement to build their confidence, restore their commitment, and encourage their initiative. While you'll want to consider their input, at this stage they are still learning, so you're the one who would make any final decisions. Make sure they know you've got their back.
If, after you try this approach, the salesperson is still struggling in their current role, they simply may be in the wrong job. If this is the case―and the person is a values-driven team member―you may decide to switch your focus to career planning and help the person transition to another area of the organization.
The "Won't Do" Problem
How do I apply servant leadership in a negative situation with a problem person? My direct report is self-centered and not willing to acknowledge their shortcomings. This person blames others and doesn't think they need to change their behavior or improve. I've tried redirecting and even reprimanding. It's had no effect on them because they deny they are the cause of any problems.
This is a different story. When a person doesn't change their behavior after they've been redirected and/or reprimanded, we call that a "won't do" problem. Despite being given the tools, the person doesn't have the desire to change their behavior. This kind of problem typically can't be solved with more direction or support.
It appears that your direct report has a bad attitude that is getting in the way of acceptable performance. It's also likely that they are making their coworkers uncomfortable—or worse, contaminating the department with their toxic attitude and behavior. Can you really afford to keep this kind of person on your team?
In this situation, you need to look at the cost to your organization. You have given your direct report every opportunity to improve. You know that they know how to do what you want them to do but they won't do it. As my coauthor and friend Garry Ridge, CEO of the WD-40 Company, likes to say, it may be time to "share them with the competition." This person is clearly not a values-match for your company, but that doesn't mean they won't succeed in a different organization. Their leaving may be what's best for both parties.
The ability to differentiate between "can't do" and "won't do" behavior and to respond appropriately is an important skill for anyone aspiring to become a servant leader. Taking the time to assess a person's mindset and skill set correctly can help ensure that you bring out the best in people who have the desire to learn—and that you limit your exposure to those who would be a better fit in a different environment.
---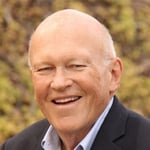 Few people have influenced the day-to-day management of people and companies more than Ken Blanchard. A prominent, sought-after author, speaker, and business consultant, Dr. Blanchard is respected for his lifetime of groundbreaking research and thought leadership that has influenced the day-to-day management and leadership of people and companies throughout the world. His latest book, Servant Leadership in Action, released in March 2018.