Employee development can be surprisingly simple.
We love our smartphone apps. Spotify and Stitcher to hear our tunes and podcasts. Waze to shave time from our commutes. Step trackers to help keep us fit.
What if there was an equivalent for getting the most of our talent? It turns out there is one. It's low-tech, but as simple and effective as the phone apps we rely on: Career Conversations.
An employee development approach based on managers talking regularly with their people about professional growth doesn't cost a lot of money. Nor is it terribly taxing in terms of leaders' time. But these conversations come with big payoffs.
In today's economy of never-ending disruption, accelerating pace, and heightened customer expectations, businesses need nimble, innovative teams made up of people bringing their best and bouncing back from setbacks. What's the best way to foster such grit and agility? Cultivate a workforce that is curious, eager to learn, and strives for expanding horizons. And the best way to do this is through supervisors having career conversations with their people.
The 3 Types of Career Conversations
As my co-author Julie Winkle Giulioni and I explain in the new, second edition of Help Them Grow or Watch Them Go, quality employee development boils down to quality conversations with employees.
This may come as a surprise to many in the talent management field. Over the years, the simple human act of helping people grow has gotten very complicated. In many organizations, there are processes on top of checklists with references to resource guides—and the to-do list keeps growing.
But in the course of more than three decades of research and consulting, I have learned that this development is overly complex because we make it so. Meaningful and productive career conversations require managers to have ongoing discussions with employees that prompt new thinking, encourage reflection, activate enthusiasm and drive action—and this can be surprisingly simple. Just like your favorite app, the best career conversations can make what feels overwhelming and unmanageable into something that builds good habits in our professional lives.
To keep things simple, Julie and I put the most valuable career conversations into three buckets:
Hindsight Conversations that help people look backward and inward to determine who they are, where they've been, what they love, where they excel and how others see them. Self-perception is key, and it becomes even clearer when enhanced by feedback from others. This backward glance—on the part of employees and those around them—is essential for moving forward.
Foresight conversations that keep employees looking forward and outward toward changes, trends, and the ever-evolving big picture and its effect on their career choices. Since nobody wants to pursue a career direction for which no need exists, foresight is critical.
Insight conversations that surface from the convergence of hindsight and foresight and help determine how the employee's strengths and passions fit into where the organization or industry is going . . . or not. It's where you jointly determine the full range of ways to move forward and the actions to take to achieve career objectives.
Career Conversations Designed for Action
This is not an academic model cooked up in a social science lab. It's a framework (based upon 30+ years of working with real people and their real challenges) that flexes to address the many types of career conversations available to managers. The formula is straightforward, but it can take some work for managers to make these dialogs meaningful. Managers can't wait for annual reviews to hold scripted exchanges with their people. Instead, leaders have to supplement the scheduled with spontaneous activities. They must be willing to interrupt their daily routines to hold impromptu chats, bring genuine curiosity to the conversations, and watch for cues signaling possible growth moments.
Consider this: a team member asks his or her manager a provocative question about company strategy. That's a perfect chance to reflect with the employee about his or her thinking on the issue, how the company goals align with his or her professional goals, and how his or her interest might be taken.
This sort of talk is not expensive, and best of all, it's effective. It builds self-awareness and pushes the boundaries of complex thinking that is necessary for smart decision-making and business agility. It also conveys a level of care and commitment to career growth that employees say they want in an employer.
The data confirms that career conversations translate into loyalty and performance. Study after study shows that best-in-class managers—those who consistently develop the most capable, flexible, and engaged teams able to drive exceptional business outcomes—all share one quality: they make career development a priority.
Holding career conversations to develop employees can require a new mindset and new habits. But like downloading the latest fitness app and using it to get nudges for workouts, this practice is simple and powerful. Like the apps we love, leaders adopting career conversations come to love them—and the better relationships and results they bring.
---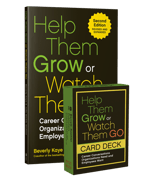 Beverly Kaye is the founder of Career Systems International. She was recently honored with the Lifetime Achievement award from the Association for Talent Development for her groundbreaking and continual contributions to workplace learning. She is the coauthor of several books, including five editions of Love 'Em or Lose 'Em. Bev's latest book, an updated edition of the international bestseller, Help Them Grow or Watch Them Go: Career Conversations Organizations Need and Employees Want, was released in 2019 along with a new interactive card deck designed to help managers and employees spark career conversations of their own.