The life of a leader can be hectic. On most days, we have a dizzying array of problems screaming for our attention… internal pressures such as staffing, quality, and capacity issues combined with external storm clouds propelling the war for talent, competitive pressures, and ever-changing governmental regulations, to name just a few.

In the midst of this cacophony is brewing a threat to our organizations often unseen and unheard above the daily din: low engagement. It is the thief of sales, profits, customer satisfaction, and the pride in a job well done.

The data on engagement is so consistently shocking most leaders have become numb to the annual statistics. Some have even retreated to denial and actually chosen to stop thinking and talking about it. This is not the answer.
Engagement matters – here's why:
1. People
Do your people go home energized or disempowered at the end of a long day? As leaders, we have the responsibility to decide. Work life matters. We have an opportunity to help people find meaning and purpose in their work. We can create a place where they can bring their best selves to work every day.
2. Opportunity
When people are bringing their best selves to work every day, it presents opportunity. If we can harness the untapped potential buried deep within the hearts of our people, we can turn engagement from a liability into real, sustainable competitive advantage and usher in gains in productivity unseen since the industrial revolution!
3. Performance
For many organizations, engagement is the final hurdle to becoming a High Performance Organization. I outlined this journey in my book, Chess Not Checkers and have done a deep dive on some of the best practices in other recent books. For those who are not familiar with the concepts, here is a ten-second summary:
All High Performance Organizations have four things in common. They Bet on Leadership;(addressed in my book Leaders Made Here); Act as One (addressed in my book Talent Magnet); and Win the Heart (addressed in my upcoming book by the same name). These three 'moves' enable them to Excel at Execution (covered in my next book, due out in Spring of 2020).
Here's my encouragement to you…
Decide what you are really trying to build. If the idea of a High Performance Organization is appealing, if superior sustained performance while treating people with honor, dignity and respect sounds like a win, jump on board. I can promise you the most rewarding ride of your life!
---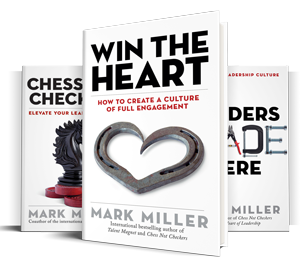 The above is an adapted excerpt from Win the Heart, the third installment from bestselling author Mark Miller's High Performance Series. This series takes a deep-dive look at all of the complex elements of leadership through the compelling story of fictional CEO Blake Brown.For more, check out Win the Heart (available March 2019), Chess Not Checkers, Leaders Made Here, Talent Magnet.
Mark Miller started his Chick-fil-A career in 1977 working as an hourly team member. Since then, Mark has provided leadership for Corporate Communications, Field Operations, Quality and Customer Satisfaction, Training and Development, Organizational Effectiveness and Leadership Development.