In 2018, Berrett-Koehler hit a lot of milestones. To name just a few, we officially surpassed over ten thousand audiobook downloads, dove deeper into online learning, and expanded our efforts to partner with authors and organizations to provide quality books and training products!
Perhaps, most bittersweetly, we announced that BK founder and CEO (and the originator of the New Leadership Paradigm), Steve Piersanti, will be stepping down in 2019 to pursue a full-time editorial role. The next CEO certainly has big shoes to fill! Stay tuned for a big announcement about that soon.
2018 has undoubtedly been a monumental year in Berrett-Koehler history. And it was an excellent year for our books! Check out our top ten bestselling titles of the year below:
1. The Arbinger Suite: The Outward Mindset, Leadership and Self-Deception, and The Anatomy of Peace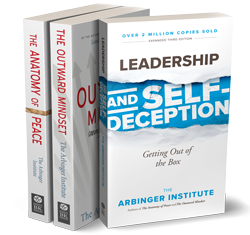 There's no question: Books from the Arbinger Institute were unstoppable in 2018. This powerhouse trio has topped our bestseller's list many times over the past months, with The Outward Mindset alone selling nearly 100,000 copies! Late in 2018, the third edition of Leadership and Self-Deception was released and received wide acclaim, even earning a shoutout from Slack's CEO, Stewart Butterfield, who recommended it to his entire leadership team.
So what is Arbinger up to next? In 2019, we're looking forward to its public workshops on developing and implementing an outward mindset and catching up on its whitepaper reports in the meantime.
Leadership and Self-Deception | Amazon | Barnes and Noble | Indiebound | BK Bookstore | Audible
The Anatomy of Peace | Amazon | Barnes and Noble | Indiebound | BK Bookstore | Audible
The Outward Mindset | Amazon | Barnes and Noble | Indiebound | BK Bookstore | Audible
2. Eat That Frog!
There's a profoundly simple reason this book has been a mainstay on our bestseller list month after month: It works! Does your New Year's resolution have anything to do with being productive and getting more done? No shame; ours does, too. Brian Tracy has crafted the perfect method for organizing your time and tasks to be the most efficient version of yourself.
This book will help you achieve more, even when you're feeling strapped for time. With over 1.5 million copies sold around the world, you can be sure that prioritizing your time to eat the biggest frog first is a tried and true practice that's helped readers everywhere. Eat That Frog! is available in multiple interactive formats, including a card deck, workbook, training video, and audiobook.
Eat That Frog! | Amazon | Barnes and Noble | Indiebound | BK Bookstore | Audible
3. On the Brink of Everything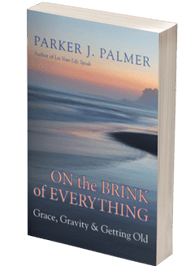 On the Brink of Everything is more than just a book: it's a look at the past, present, and future of everything that can only be achieved with experience. Looking back on his eight decades of life, love, and work, author Parker Palmer reveals the secret to maintaining curiosity for the world: cultivating a robust inner and outer life, sustaining a sense of purpose amid inevitable pain and wondrous joy, and opening up the possibility for intergenerational relationships that value youth and experience, no matter your age.
Curious what Parker is up to this year? Well, for starters, he's hosting a transformative retreat in April with Carrie Newcomer. Click here for more information.
On the Brink of Everything | Amazon | Barnes and Noble | Indiebound | BK Bookstore | Audible
4. Servant Leadership in Action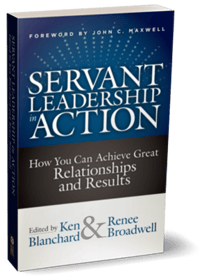 We can safely say that you won't be able to find as comprehensive and incisive a book on servant leadership than this collection of essays. This publication was edited by world famous leadership experts Ken Blanchard and Renee Broadwell, with contributions from such revolutionary thinkers as: Brené Brown, John C. Maxwell, Stephen Covey, Cheryl Bachelder, Michael C. Bush, Simon Sinek, Jim Kouzes, and more—it's no wonder that this book continues to soar in sales. Named by Inc. in 2018 as one of the most anticipated leadership books ever published, this book is showing no signs of slowing down as we enter the new year!
We've said it before, and we'll say it again—servant leadership is more than pie-in-the-sky idealism. It results in tangible change and raises the bottom line. If you don't know where to start on your servant leadership journey, Ken Blanchard writes about the moment he realized the transformative potential of servant leadership. And if you're hungry for more in 2019, consider attending one of Ken Blanchard's regularly scheduled webinars or engage in their e-learning programs.
Servant Leadership in Action | Amazon | Barnes and Noble | Indiebound | BK Bookstore | Audible
5. Trauma Stewardship & The Age of Overwhelm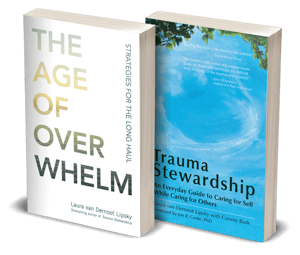 Trauma Stewardship has long been an established fixture on our bestseller list—and we're thrilled to see Laura van Dernoot Lipsky's latest 2018 release, The Age of Overwhelm, take its place by its side.
A pioneer in the field of trauma exposure, van Dernoot Lipsky's has produced two bestselling titles for those who eagerly want to make the world a better place but are in danger of running on fumes. And let's face it: who in 2018 didn't have a few moments where it all felt like too much to bear? This is where van Dernoot Lipsky shines—in reminding readers of their purpose and passion, all while giving them the tools to take care of themselves along the way.
Trauma Stewardship | Amazon | Barnes and Noble | Indiebound | BK Bookstore | Audible
The Age of Overwhelm | Amazon | Barnes and Noble | Indiebound | BK Bookstore
6. The Body Is Not an Apology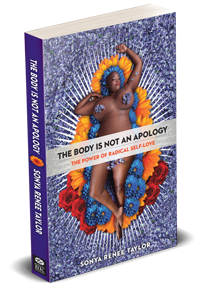 Speaking of self-care, world-renowned speaker, performance poet, and author Sonya Renee Taylor delivered the breakout hit of 2018, The Body Is Not an Apology. The world can no longer deny that we're ready to embrace the potential of radical self-love, a love that combats external bodily oppression.
Radical self-love is a growing global movement that's fighting pervasive systems of oppression that suppress the beauty of diversity in all bodies. Released Valentine's Day 2018 (because what's better than the gift of radical self-love?), The Body Is Not an Apology invites readers to reconnect with their radical origins and love our bodies as they are, moving away from the shame, violence, and body terrorism that disable the innate power we all possess. Kimberlé Crenshaw, Alicia Garza, Eve Ensler, Tess Holiday, and more have praised the book as a beacon of hope and guidepost for those who believe that love and the work that it entails can change the world.
The Body Is Not an Apology | Amazon | Barnes and Noble | Indiebound | BK Bookstore | Audible
7. Talent Magnet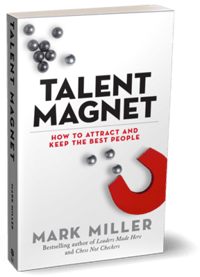 Talent Magnet is the third installment in leadership expert author Mark Miller's High Performance Series, which also includes bestsellers Chess Not Checkers and Leaders Made Here. What's the secret behind this series' success? Miller knows that at the heart of leadership is recognizing people as people. In order to keep the best people, leaders have to prioritize creating an engaging workplace culture where employees feel a sense of purpose and consider themselves valuable and critical to the organization's overall success.
The best part of Talent Magnet, Leaders Made Here and his forthcoming book, Win the Heart (available March 2019), is that they're practical and actionable. Without top talent and an engaged workforce, leaders don't stand a chance of taking their organizational success to the next level.
Talent Magnet | Amazon | Barnes and Noble | Indiebound | BK Bookstore | Audible
8. Humble Inquiry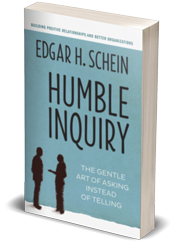 Humble Inquiry, first released in 2013, is the first of what would later become the Humble Leadership Series and launched the revolutionary practice of humility and inquiry into the lexicon of organizational development and leadership circles.
Author Ed Schein defines Humble Inquiry as "the fine art of drawing someone out, of asking questions to which you do not know the answer, of building a relationship based on curiosity and interest in the other person." Followed by Humble Consulting (2016) and Humble Leadership (2018), Humble Inquiry has remained a consistent top seller, showing how a leadership model built on mutual respect and curiosity has the potential for inspiring creativity in every team member.


Humble Inquiry | Amazon | Barnes and Noble | Indiebound | BK Bookstore | Audible
9. Change Your Questions, Change Your Life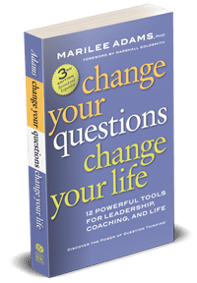 Change Your Questions, Change Your Life shows how the kinds of questions we ask can be the root cause of many personal and organizational problems. Marilee Adams, an eminent thought-leader in education and purpose, uses a highly instructive and entertaining story to show how to recognize any undermining questions that pop into your mind quickly—or out of your mouth—and reframe them to achieve amazingly positive and practical results.
Based on Adams's decades of research and experience as an organizational consultant and executive coach, this book can make a life-transforming difference—as it already has for many thousands of people around the world.


Change Your Questions, Change Your Life | Amazon | Barnes and Noble | Indiebound | BK Bookstore | Audible
10. New Confessions of an Economic Hit Man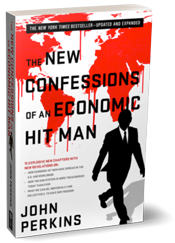 Last, but certainly not least, is the runaway hit The New Confessions of an Economic Hit Man, an expanded and updated version of the trials, tribulations, and cautionary tales of John Perkins' original New York Times bestseller, Confessions of an Economic Hit Man.
Featuring 15 explosive new chapters, this expanded edition of Perkins's classic bestseller brings the story of economic hit men (EHMs) up to date and, chillingly, home to the US. With the state of affairs in the world looking increasingly unstable, we're definitely tuning in to John Perkins' knowledge of the dark underbelly of global capitalism. If you want to keep up to date with John Perkins and his adventures around the world spreading this message, check out his upcoming events.
New Confessions of an Economic Hit Man | Amazon | Barnes and Noble | Indiebound | BK Bookstore | Audible