When virtual meetings are our only option, making them positive, energizing experiences is even more important. This can be challenging, because as social animals, we crave the feedback we get from other people's body language and facial cues, and online meetings wash those out. Being unable to read reactions, or know whether you're being heard because of poor Wifi, can feed the beast of social anxiety. In a Psychology Today article about zoom fatigue, Dr. Degges-White writes, "even extroverts can feel worn down by the high-intensity virtual connecting."
But remote meetings don't have to be ordeals - provided they're in the hands of the right facilitator. When Kirsten Clacey and Jay-Allen Morris pitched their book, The Remote Facilitator's Pocket Guide to me, my remote meeting with them was the first time I've had fun and felt more connected by a video call than an in-person interaction. That's how I decided to sign them as Berrett-Koehler authors.
Years of experience leading agile software teams from South Africa (often remotely) has given them best practices they share with many corporations and throughout the Agile community. They're giving talks on playful learning in remote meetings and the neuroscience of remote engagement at the Agile Alliance Conference, Agile 2020 in August, and their book will be available for purchase in May.
But while we're waiting for the book - Jay-Allen and Kirsten have come up with some interactive activities you can use to jazz up your next staff check-in or enliven your next team meet-up!
To keep long, interactive remote meetings from feeling draining and lonely, this deck has ideas for generating energy and creating connection in remote meetings: Connection and Energy Activities. My personal favorite was the Gratitude Circle activity. Why? I've seen so many meeting leaders struggle to realize "Hey, we can't go around the room in a circle any more! The order on my Zoom screen is not the order on everyone else's Zoom screen!" Using the Google Slide to create a virtual circle solves that problem and helps everyone figure out how to move the conversation along.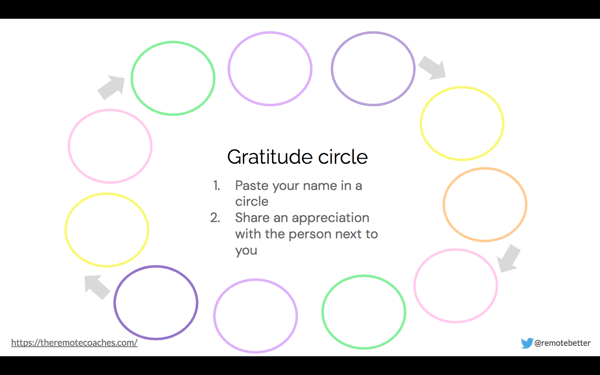 To solve the problem of "reading the room," we have a second slide deck for you. You see, without visual cues like body language and other physical tools for people to express opinion, remote meetings can feel "sluggish." It's hard to know what people really think about things!
This deck has ideas for quickly gauging opinion: Gauging Opinion Activities. My favorite activity from this deck is the "How confident do you feel in the decision we've reached?" slide; it reminds me of those "line up along the middle of the room," activities that you sometimes do in workshops in real life.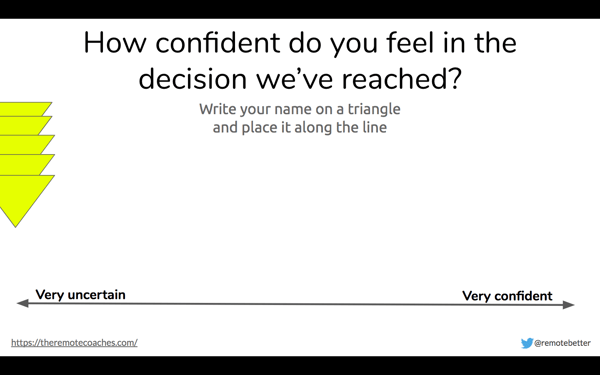 How are you making your own remote meetings interesting and fun? Tweet some of your ideas at @BKPub, and we'll retweet them for others to enjoy!