February is the shortest month of the year, but it sure was monumental!
We shared a big announcement about the future of Berrett-Koehler—and we're just a little bit excited. You may have heard that our founder and CEO Steve Piersanti is stepping down in May of this year to pursue a full-time editorial role. So who could possibly fill his shoes? Our very own David Marshall and Johanna Vondeling!
In collaborative leadership roles, David Marshall will serve as CEO/CFO with Johanna Vondeling as President and Publisher. Steve Piersanti calls them a "dream team" in his letter to the community about the decision. "It is clear that the aspects of BK that make our company and community so distinctive and successful—which we often call "the BK Way"—will be in great hands with David's and Johanna's leadership," Steve goes on to say. And of that we have no doubt. We've seen their dedication over the years not just to the BK way, but to issues like advancing women in leadership and cultivating a culture rooted in servant leadership. Congratulations, David and Johanna!
Speaking of big announcements, February was also an big month for our books and authors. Read on for our list of bestsellers!
1. The Arbinger Suite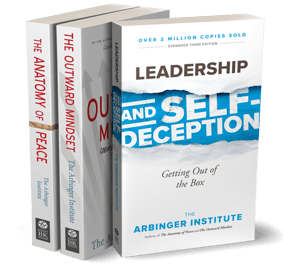 The Arbinger Institute's suite of international bestsellers: Leadership and Self-Deception, The Outward Mindset, and The Anatomy of Peace take the top spot again on our list this month. Look no further than this trio for moving and captivating stories on navigating conflict, reflecting inwardly while serving others, all while striving to create meaningful change. It's a total trifecta of thought-provoking lessons that benefit not only you, but your organizations and communities, too.
The third edition of Leadership and Self-Deception, an international bestseller with over 2 million copies sold worldwide and translated into 33 languages, details how its powerful insights on motivation, conflict, and collaboration and has been adopted by servant leaders around the world. Coupled with the more recent publications of The Anatomy of Peace and The Outward Mindset, the Arbinger Institute continues to grow and inspire readers across the globe to move outwards and preserve the relationships that matter most.
Leadership and Self-Deception | Amazon | Barnes and Noble | Indiebound | BK Bookstore | Audible
The Anatomy of Peace | Amazon | Barnes and Noble | Indiebound | BK Bookstore | Audible
The Outward Mindset | Amazon | Barnes and Noble | Indiebound | BK Bookstore| Audible


2. Bedtime Stories for Managers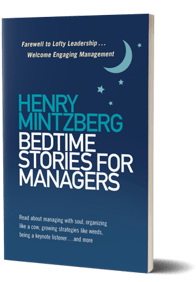 If you're like most managers, things keep you up at night. Late-night emails, your burnt out team, managing up, letting someone go. It's the pits, right?
Luckily for you, the highly-anticipated and latest book from world-renowned management expert and scholar Henry Mintzberg gifts managers with forty-two essays full of deceptively-light metaphors and deep reflections on management. Prepare to grow strategies like weeds and organize like a cow. Discover the maestro myth of managing, find the soft underbelly of hard data, and learn why downsizing is bloodletting and your board should be a bee. Confused? Don't fret, that's Mintzberg's goal!
Mintzberg writes, "Just try not to be outraged by anything you read, because some of my most outrageous ideas turn out to be my best. They just take a while to become obvious." Definitely a must-keep on on your nightstand. Sweet dreams!
Bedtime Stories for Managers | Amazon | Barnes and Noble | Indiebound | BK Bookstore | Audible
3. Eat That Frog!
A continuous bestseller, Eat That Frog! gets at the problem many of us seem to face—long, never-ending to-do lists that never get crossed off. Brian Tracy shows us how to make the most of our time, especially in the age of endless digital distractions. Nearly 1.5 million readers around the globe are eating their frogs and not just setting the intention, but achieving higher aspirations and goals. (Aaaand, now we're hungry. There seems to be a lot of talk about eating our own cooking in this post...)
We're still at the beginning of this year, and with so much to do, there's no better time to start eating those frogs.
And if you're like us and need a little extra help getting started and sticking to your resolutions, Eat That Frog! is available in multiple interactive formats, including a card deck, workbook, video training, and audiobook.
Eat That Frog! | Amazon | Barnes and Noble | Indiebound | BK Bookstore | Audible


4. Change Your Questions, Change Your Life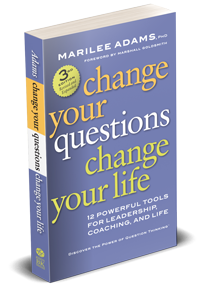 It's easy and important that we jump to finding solutions when a problem arises, but Marilee Adams challenges us to pause and ask better questions to figure out if there are deeper underlying pain-points that are going under-explored. It can be like trying to catch smoke but avoiding putting out the fire. But there's a better way! By changing the kinds of questions we ask ourselves, our situation, and those around us, we can dramatically improve every aspect of our lives.
Adams' approach to asking the right questions uses a highly instructive and entertaining story to show how to quickly recognize any undermining questions that pop into your mind—or out of your mouth—and reframe them to achieve amazingly positive and practical results. After all, the kinds of questions we ask shape our thinking and can be the root cause of many personal and organizational problems.



Change Your Questions, Change Your Life | Amazon | Barnes and Noble | Indiebound | BK Bookstore | Audible
5. The Future of Packaging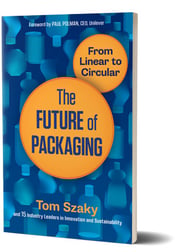 New this month and ranking at #5, The Future of Packaging by CEO of TerraCycle Tom Szaky imagines a future without waste. Only 35 percent of the 240 million metric tons of waste generated in the United States alone gets recycled, according to the Environmental Protection Agency. Co-authored with 15 industry leaders in innovation and sustainability, Szaky shows how manufacturers can move from a one-way take-make-waste economy that is burying the world in waste to a circular, make-use-recycle economy.
NowThis News recently featured Tom Szaky and his organization TerraCycle in a short and educational video on how we can make our waste stream completely recyclable. With propositions like the Green New Deal and an urgent conversation surrounding creating sustainable futures and saving our planet and the environment, The Future of Packaging gives industry leaders the tools to start "repackaging packaging."
The Future of Packaging | Amazon | Barnes and Noble | Indiebound | BK Bookstore | Audible

6. Decolonizing Wealth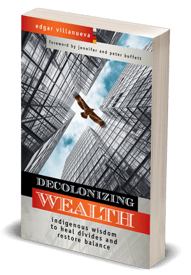 Edgar Villanueva's provocative book, Decolonizing Wealth, has sparked a growing movement that spans beyond philanthropy and into thinking about revolutionizing our world to uplift the most disenfranchised and restoring justice to colonized peoples and communities. Through its provocative analysis of the dysfunctional colonial dynamics at play in philanthropy and finance, this book outlines Seven Steps for Healing by drawing from the traditions from the Native way to prescribe the medicine for healing the ever-expanding wealth inequalities that disproportionately affect communities of color.
In February, Villanueva joined President Obama at My Brother's Keeper Rising!, a celebration of local and national leaders at the forefront of transformational organizations that are reducing barriers, expanding opportunity, and creating lasting, systemic change for boys and young men of color.
Decolonizing Wealth continues to get great press, and was recently featured in an article about the role of philanthropy in perpetuating and exacerbating economic inequality and racial injustice. If you're curious about reading more of his commanding words, check out this adapted excerpt we featured on the blog.
Decolonizing Wealth | Amazon | Barnes and Noble | Indiebound | BK Bookstore | Audible
7. The Critical Few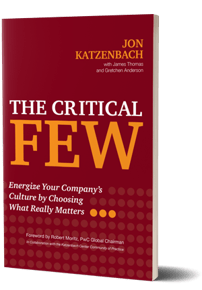 In a global survey by the Katzenbach Center, 80 percent of respondents believed that their organization must evolve to succeed. But a full quarter of them reported that a change effort at their organization had resulted in no visible results.
Without a deep understanding of your company's culture, any change effort you undertake will fail. The fate of any change effort depends on whether and how leaders engage their culture. The Critical Few, by organizational development expert Jon Katzenbach and coauthors, Gretchen Anderson, and James Thomas, present a proven methodology for identifying your culture's four most critical elements to help you elicit change within your organization. With their guidance, you can build the kind of powerful company that people recognize for its innate value and effectiveness.
Read on to see how The Critical Few can help you to create a culture that welcomes innovation and change.
The Critical Few | Amazon | Barnes & Noble | Indiebound | BK Bookstore | Audible
8. On the Brink of Everything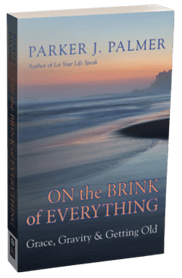 One of our 2018 bestsellers, On the Brink of Everything is a book for readers of all ages. Beloved author Parker Palmer reveals the secret to maintaining curiosity for the world and sustaining a sense of purpose within his eight decades of life, love, and work. "Age itself," he says, "is no excuse to wade in the shallows. It's a reason to dive deep and take creative risks."
Yes! Magazine graciously posted an excerpt of the book last fall that will surely carry us into any season. While this book focuses on the wisdom that inevitably accompanies aging, Palmer writes for any age, especially those who feel as though they're old souls trying to make sense of a hyper-modern world. Eternal wisdom remains the same, even if it's wearing new clothing.




On the Brink of Everything | Amazon | Barnes and Noble | Indiebound | BK Bookstore | Audible
9. A Leadership Kick in the Ass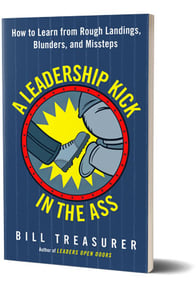 Even the best leaders start out as decidedly bad ones. Sooner or later, they reach a moment of reckoning that leadership expert Bill Treasurer calls the 'leadership kick in the ass.' When it happens, it feels like it's all over. But Treasurer says that with the right attitude, that kick can be a new beginning. Based on his work with thousands of leaders, this book reveals how to turn those ego-bruising events into the kind of transformative experiences that mark the paths of great leaders.
As Steve Jobs famously said, "Getting fired was the best thing that ever happened to me." This book is a survival guide, coach, and morale booster to help you use that kick to move forward.


A Leadership Kick in the Ass | Amazon | Barnes and Noble | Indiebound | BK Bookstore | Audible
10. Win the Heart
Employee engagement is shockingly low, but it's not an employee problem. It's a leadership problem. In the fourth book of Mark Miller's High Performance Series, Miller reveals the four keys to creating a workplace where employees truly want to be. Through the story of CEO Blake Brown, Brown discovers how to create the kind of workplace where everyone feels excited to come to work, passionate about what they bring to the company, and energized at the end of the day.
Engagement unleashes untapped potential buried deep within the hearts of your people. An engaged workforce is more creative, more driven, and more enthusiastic about reaching company goals. If you put the lessons in this book to work, your people will never look at work, or their leaders, the same way again. And maybe you'll even win their hearts.


Win the Heart | Amazon | Barnes and Noble | Indiebound | BK Bookstore | Audible