Berrett-Koehler authors are having a hot summer! Edgar Villanueva, breakout star and author of Decolonizing Wealth, sat down with Vox to discuss the racial philanthropy gap, and Cedric L. Alexander, author of In Defense of Public Service, highlighted the loss of government legitimacy while responding to recent episodes of police brutality in Phoenix, AZ on CNN. Tamara Belinfanti, Harvard Law alum and co-author of Citizen Capitalism (along with the late Lynn Stout and Sergio Gramitto) was featured in Harvard Law Today's selected books of the summer. And Devora Zack, author of Networking for People Who Hate Networking, was cited as a reference by the Washington Post for how to make the best impression as a networking newbie.
Looking for your next read to take on vacation? Read on for our June bestsellers!
1. The Hidden History of Guns and the Second Amendment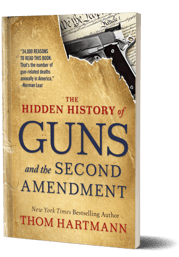 Thom Hartmann, the most popular progressive radio host in America and a New York Times bestselling author, looks at the real history of guns in America and what we can do to limit both their lethal impact and the power of the gun lobby.
Taking his typically in-depth, historically informed view, Hartmann examines the brutal role guns have played in American history, from the genocide of the Native Americans to the enforcement of slavery and the racist post–Civil War social order. He shows how the NRA and conservative Supreme Court justices used specious logic to invent a virtually unlimited individual right to own guns, which has enabled the ever-growing number of mass shootings in the United States. But Hartmann also identifies a handful of powerful, commonsense solutions that would break the power of the gun lobby and restore the understanding of the Second Amendment that the Framers of the Constitution intended. This is the kind of brief, brilliant analysis for which Hartmann is justly renowned.
This is the first book in Hartmann's new Hidden History Series. Be sure to sign up for updates on the series for forthcoming books, including The Hidden History of the Supreme Court and the Betrayal of America (Fall 2019).
The Hidden History of Guns and the Second Amendment | Amazon | Barnes and Noble | Indiebound | BK Bookstore | Audible


2. Master Your Motivation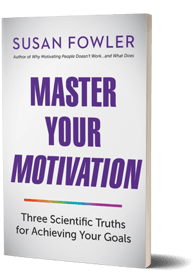 Motivation is at the heart of everything you do and everything you want to do but don't. Unfortunately, the ways we typically motivate ourselves don't work. Relying on sheer determination eventually becomes exhausting—it's not sustainable. And even setting goals can backfire if you're not setting them for the right reasons. Susan Fowler says motivation is energy, and what matters is the quality, not the quantity. Traditional "motivators" such as fear, guilt, or the promise of a reward provide low-quality, short-term energy. Drawing on the latest empirical research, she proves that high-quality, optimal motivation is a skill that you can learn and apply.
Through practical exercises and eye-opening stories, Fowler shows you how to identify and shift the quality of your motivation. The skill to master your motivation is important—it may be your greatest opportunity to evolve, grow in wisdom, and be the light the world so desperately needs.
Master Your Motivation | Amazon | Barnes and Noble | Indiebound | BK Bookstore | Audible


3. The Arbinger Institute Suite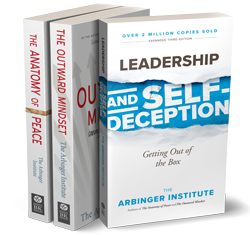 Leaders across industries are buzzing about Leadership and Self-Deception this summer.
Mark Parkinson, president and chief executive officer of the American Health Care Association/National Center for Assisted Living (AHCA/NCAL), recently cited lessons from the book to Provider Magazine. His main takeaway to boost employee engagement: "try to live outside of the box and treat people as people." His role as a leader was transformed by seeing people as people, active listening, and focusing on the success of the organization.
Robert Mayes, CEO of Keel Point, recommended the book to AdvisorHub's summer reading list, sharing that "It helped me to step back and alter my leadership style to ensure the motivation behind my decisions are always made in the best interests of my clients and its employees."
The Arbinger Institute's trio of titles follow the true stories of leaders tackling personal, professional, and global conflict. The simple but profound guidance and tools imparted by their books continue to inspire and impact readers from around the world.
Leadership and Self-Deception | Amazon | Barnes and Noble | Indiebound | BK Bookstore | Audible
The Anatomy of Peace | Amazon | Barnes and Noble | Indiebound | BK Bookstore | Audible
The Outward Mindset | Amazon | Barnes and Noble | Indiebound | BK Bookstore | Audible
4. Eat That Frog!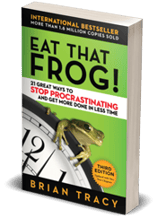 It's summertime, which means it's time to take that vacation you deserve. But it can be hard to step away from your desk and never-ending to-do list without guilt. You may even be planning to work while on vacation so that you can get everything done. However, the most productive people don't actually get everything done; they get the most important things done.

Eat That Frog! will show you how to organize each day so that you can zero in on your most critical tasks and accomplish them efficiently and effectively. This life-changing book will ensure that you get more of your important tasks done today, so you don't have to check your email at the beach.
Eat That Frog! is available in multiple interactive formats, including a card deck, workbook, video training, and audiobook.
Eat That Frog! | Amazon | Barnes and Noble | Indiebound | BK Bookstore | Audible


5. Faster, Fewer, Better Emails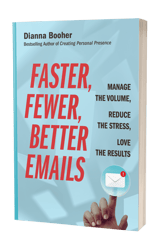 Are you trapped in email jail? Today, most business writing is email writing. We handle even our most important customer transactions, internal operations, and supplier partnerships solely by email. Yet, many of us still struggle to write emails that get results. Additionally, we often are overwhelmed by the sheer volume of emails that we receive.
With more than three decades of experience analyzing emails across various industries for corporate clients, Dianna Booher offers guidance on how to identify and stop email clutter so that you can increase productivity while improving communication flow.

Psst, be sure to check out Booher's top five tips on reducing email clutter, ASAP.
Faster, Fewer, Better Emails | Amazon | Barnes and Noble | Indiebound | BK Bookstore | Audible


6. The Driver in the Driverless Car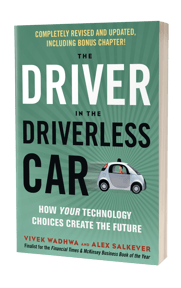 What kind of future lies ahead—Star Trek or Mad Max? Breakthroughs such as personalized genomics, drones, self-driving vehicles, and artificial intelligence could make our lives healthier, safer, and easier. On the other hand, the same technologies raise the specter of a frightening future—eugenics, a jobless economy, a complete loss of privacy, and ever-worsening economic inequality.
Tech experts Vivek Wadhwa and Alex Salkever say that we need to ask three questions about every emerging technology: Does it have the potential to benefit everyone equally? What are the risks and the rewards? And does it promote autonomy or dependence? This edition is updated throughout and includes a new chapter on quantum computing, which promises vastly increased processing times—and vastly increased security risks. In the end, our future is up to us; our hands may not be on the wheel, but we will decide the driverless car's destination.



The Driver in the Driverless Car | Amazon | Barnes and Noble | Indiebound | BK Bookstore | Audible


7. Feedback (and Other Dirty Words)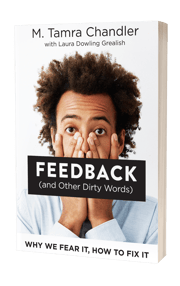 Feedback: the mere mention of the word can make our blood pressure rise and our defenses go up. For many of us, it's a dirty word that we associate with bias, politics, resentment, and self-doubt. However, if we take a step back and think about its true intent, we realize that feedback needn't be a bad thing. After all, understanding how others experience us provides valuable opportunities to learn and grow.
Authors M. Tamra Chandler and Laura Grealish offer a new and more ambitious definition of feedback, explore the roles we each play as Seeker, Extender, and Receiver, and introduce the three Fs of making feedback focused, fair, and frequent. You'll also find valuable exercises and strategies, along with real-world examples that illustrate how you can put these ideas into action and join in the movement to fix feedback, once and for all.
Before you get the book, be sure to see what M. Tamra Chandler says are the 3 most important actions to take to redeem feedback and build a movement.
Feedback (and Other Dirty Words) | Amazon | Barnes and Noble | Indiebound | BK Bookstore | Audible


8. Trauma Stewardship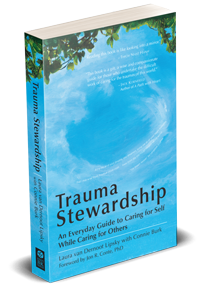 Though self-care can be seen as a buzzword, it's a necessary practice. For those who work with trauma survivors, it can be difficult to take care of yourself while taking care of others. Even with love and good intentions, the impact of trauma on trauma workers can go unrecognized and take its toll.
A longtime trauma worker, Laura van Dernoot Lipsky, offers a deep and empathetic survey of those working to make the world a better place. We may feel tired, cynical, numb, or like we can never do enough. These and other symptoms affect us individually and collectively, sapping the energy and effectiveness we so desperately need if we are to benefit humankind, other living things, and the planet itself.
In Trauma Stewardship, we are called to meet these challenges in an intentional way—to keep from becoming overwhelmed by developing a quality of mindful presence. Joining the wisdom of ancient cultural traditions with modern psychological research, Lipsky offers a variety of simple and profound practices that will allow us to take care of ourselves—and, ultimately, the world.

Trauma Stewardship | Amazon | Barnes and Noble | Indiebound | BK Bookstore | Audible


9. Help Them Grow or Watch Them Go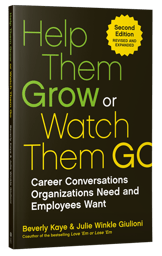 Career development experts Beverly Kaye and Julie Winkle-Giulioni say that "Quality career development boils down to quality conversations." In this latest edition of a bestselling classic, they challenge managers to reframe career development by understanding that their role is to prompt, guide, reflect, explore ideas, activate enthusiasm, and drive action. Their action manifests in frequent short conversations with employees about themselves, their goals, and the business that can be integrated seamlessly into the normal course of business. This empowers employees to do the heavy lifting of development in an autonomous and supported way rather than as a last-minute item on their manager's to-do list.

Help Them Grow or Watch Them Go | Amazon | Barnes and Noble | Indiebound | BK Bookstore | Audible | Card Game


10. The New Confessions of an Economic Hit Man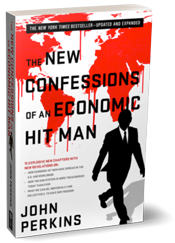 "Economic hit men," John Perkins writes, "are highly paid professionals who cheat countries around the globe out of trillions of dollars. Their tools include fraudulent financial reports, rigged elections, payoffs, extortion, sex, and murder. This New York Times bestseller exposes international intrigue, corruption, and little-known government and corporate activities that have dire consequences for American democracy and the world.
In this partly-autobiographical book, former economic hit man (EHM) John Perkins details how he convinced countries that are strategically important to the U.S.—from Indonesia to Panama—to accept enormous loans for infrastructure development and to make sure that the lucrative projects were contracted to U.S. corporations. Saddled with huge debts, these countries came under the control of the United States government, World Bank and other aid agencies that acted like loan sharks—dictating repayment terms and bullying foreign governments into submission. As dark as the story gets, this reformed EHM also provides hope and an insider's view into how we can change this system.
The New Confessions of an Economic Hit Man | Amazon | Barnes and Noble | Indiebound | BK Bookstore | Audible